For walleye anglers, the wind can giveth and the wind can taketh away – makes the 'eyes bite, but complicates casting for 'em. So next time you want to bust 'em when it's gusty, sling a Rapala Shad Dancer®. "It casts like a bullet," says James Holst, host of In-Depth Outdoors on the Fox Sports North channel. "It's a balsa bait that you can heave about twice as far as a Shad Rap®."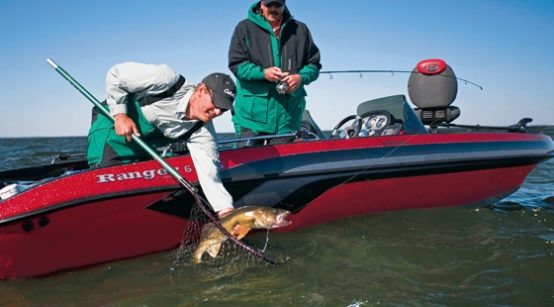 That's a game-changer, Holst says. "So many walleye bites we target are very wind-generated," he explains. "If it's not windy, the fish probably are not biting. …So you're going to be casting into the wind, that's just the way it is. Having that Shad Dancer that you can really rifle out there – and get that balsa action – is really important."
Indeed. Holst loaded the boat with big walleyes this spring fishing Shad Dancers in shows filmed on lakes in North and South Dakota. "We just beat 'em up," he says. "Fantastic, fun fishing. The Shad Dancer caught more fish than anything."
Swimming with a silent but aggressive, hard-thumping and sweeping tail action, the Shad Dancer offers the excitement of a Rapala Tail Dancer in a shad-profile bait. It features a tough balsa body that dives 7 to 10 feet whether cast or trolled. Holst compares its triggering action to that of the legendary Shad Rap, but with the added ability to fly farther and dive deeper.
"What I love about the Shad Dancer is it's got a really subtle side-to-side movement, kind of like a #5 or #6 Shad Rap, but it dives so much deeper," he says. "Shad Dancers will ping the bottom in 8, 9 feet of water, easily, on a cast. We fish them any time we need to get in on a bite where the fish are a little bit deeper."
Especially windy conditions often drive walleyes deeper, Holst explains.
"It seems like when you've got good wave action rolling into those rocks, the fish just aren't going to be up in a foot and a half or two foot of water – they're kind of getting thrown around as well by the waves crashing."
You don't need to give a Shad Dancer much additional action with wrist maneuvers, rod movement or stops and starts. Just chunk and wind it.
Shad Dancers measure 2 inches, weigh 1/4 oz. and come armed with two No. 6 VMC Black Nickel Round Bend Hooks. They will excel this summer for walleye in lakes and rivers all across the Upper Midwest "as the fish start to drop a little deeper," Holst says. "Being able to have a smaller bait like that that you can get down 8, 9, 10 feet on a cast will really be a welcome addition to your arsenal."
Holst can't wait to target walleyes with Shad Dancers this month on Lake Pepin, a 40-square-mile section of the Mississippi River between Bay City, Wisconsin and Reads Landing, Minnesota. It's average depth is 21 feet. He will target rocky, windward rip rap in six to eight feet of water on break-lines that transition to deeper water.
"Those big females will be tight to the rip rap and they're going to feed best on days where I've got wind crashing into the rocks," Holst says. "And I guarantee that Shad Dancer is going to be a top performer."
Pro tip: Keep reeling at a steady rate all the way back to boat – don't give up on a retrieve too soon and suddenly speed up and get sloppy in order to get the bait back in the boat for your next cast.
"We caught a lot of fish seven to eight feet from the boat on Shad Dancers," Holst explains. "Walleyes will follow them a long way. When they see it, they don't really act like people think walleyes are supposed to act – they chase it down. They'll follow it almost all the way to the surface and to the boat. So that last 10 feet can be the deal-maker."
Shad Dancers are available in 16 color patterns.  Holst favors natural color patterns like Perch and Yellow Perch, or the HD Live patterns, when fishing in clear to lightly stained water. In stained and muddy water, he prefers the brighter patterns like Firetiger, Hot Steel and Red Crawdad. "Those colors translate really well in dirtier river water," he says.
Holst fishes Shad Dancers on 10-pound-test, 4-pound-diameter Sufix 832 Advanced Superline braid tipped with a 10- to 12-pound-test leader of Sufix Invisiline fluorocarbon.
See Rapala® Shad Dancer
See Rapala® Shad Rap®
See Sufix® 832® Advanced Superline
See See Sufix® Castable Invisiline 100% Fluorocarbon
The post Win In The Wind With Shad Dancers For Walleye appeared first on ODU Magazine-North America's #1 Digital Fishing Magazine.