DNREC's Division of Fish & Wildlife has confirmed a new state record in the Delaware Sport Fishing Tournament: a 36-pound, 3.2-ounce blue catfish, caught June 20 by Jordan Chelton of Harrington. The fish was 38½ inches long and had a girth of 27½ inches.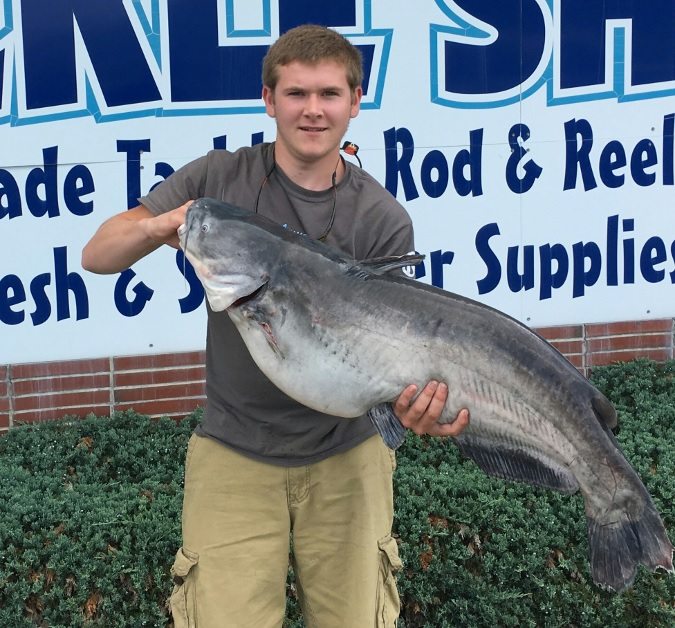 Chelton caught the fish in the upper Nanticoke River near Seaford on 12-pound test line with a chunk of Atlantic menhaden (bunker). The catfish took the bait about 9:30 p.m. Chelton landed it almost a half hour later.
The record catch was initially confirmed by Fish & Wildlife Natural Resources Police-officer AFC Adam Roark, and verified at Taylored Tackle Shop in Seaford. Delaware has one state catfish record, now held by Jordan Chelton, that stands for any catfish species caught here. The previous catfish record holder was Gavin Spicer, who caught a 25-pound, 5.6-ounce catfish, also a blue catfish, from the Nanticoke just two months earlier, on April 21. For all state freshwater fishing records, please visit the Division of Fish & Wildlife's Delaware Fishing Records page.
More information on the Delaware Sport Fishing Tournament is found in the 2017 Delaware Fishing Guide. The guide also is available in printed form at DNREC's Dover licensing desk in the Richardson & Robbins Building, 89 Kings Highway, Dover, DE 19901, and from license agents throughout the state.
The post Delaware Records A Record Catfish appeared first on ODU Magazine-North America's #1 Digital Fishing Magazine.