Getty: Harry Collins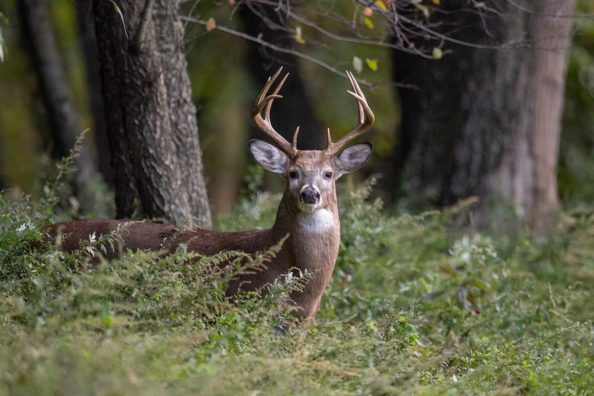 Pennsylvania might not have the biggest bucks in the United States, but we sure do love our deer hunting.
You'd be hard-pressed to argue a better place to deer hunt these days than the state of Pennsylvania. Maybe they don't reach monster size, but there are a lot of them, and we love it that way.
In fact, Pennsylvania has the highest hunter density of any state in the country.
But if you're willing to hike in earlier and farther than the orange army, some decent hunting may await you.
The Keystone State is one of the proudest whitetail deer hunting states in the country, with solid population numbers and hunting traditions that could rival any other community in North America.
If you're a state resident who's considering your first deer hunt, or a nonresident who wants to make the trip, there are a few specifics you should familiarize yourself with first.
Hunting Regulations for Pennsylvania Deer Hunting
In 2002, the Pennsylvania Game Commission instituted new antler restrictions, requiring a minimum of three or four points–depending on the area of the state–measuring 3 inches in length on at least one side for any antlered deer harvest. This was updated to a three-point restriction statewide in 2011.
The hunting license year in Pennsylvania typically runs from July 1 to June 30 of the following year. A resident hunting license costs $20.90, which includes an antlered deer tag. Add-on archery and muzzleloader licenses must be purchased, and hunters can apply for antlerless licenses for $6 each. A non-resident hunting license will run you $101.90, plus add-ons which are more expensive for out-of-staters.
During firearms seasons, hunters must wear 250 square inches of fluorescent orange, which measures out to a hat and vest.
Due to the spread of chronic wasting disease, the PGC has several ever-changing CWD guidelines in place. Be sure to check current regulations before transporting whitetail deer in and out of Pennsylvania.
Pennsylvania Deer Seasons & Bag Limits
Pennsylvania is divided into 23 wildlife management units, with hunting seasons and bag limits varying across these WMU lines. Pennsylvania hunters can only take one antlered deer per year statewide, while each antlerless license or permit allows for an antlerless deer.
The Pennsylvania deer season kicks off with an archery-only season, beginning on September in select WMUs and early October statewide. Archery season closes in a portion of the state until the two-week firearm season opens in late November, with the first week being an "antlered deer only" period in much of the state. Pennsylvania also has special muzzleloader, youth, and late archery seasons.
2020 marked the first season with Sunday hunting in Pennsylvania on three days selected by the PGC. Two of these Sundays fell during deer season–one during archery deer and one during the regular firearms deer season. Hunters must obtain written permission for Sunday hunting on private land, but those hunting on state game lands (public lands) have no such restrictions.
Pennsylvania deer hunters can also apply for deer management assistance program (DMAP) tags for antlerless deer, which allow them to take additional deer on participating private lands to help landowners better manage their properties.
Popular Public Hunting Lands
While Pennsylvania boasts more than 1.5 million acres of public hunting land, there are a number of units that seemingly grab the attention of hunters nationwide: SGL 46, SGL 145, and SGL 156.
SGL 46, located across Lebanon and Lancaster counties, covers around 6,000 acres around near the Middle Creek Wildlife Management Area. SGL 145 and SGL 156 also fall in Lebanon county, covering 2,800 and 4,500 acres, respectively.
This part of the state features a variety of hardwoods and agricultural fields that offer plenty of hunting opportunities.
Also worth noting are a number of WMUs and state parks.
WMUs 5C, 2A, 2D, 1A, and 1B are all widely considered top-tier public land units capable of producing larger mature bucks. Gifford Pinchot State Park and Caledonia State Park, which many hunters don't even realize offer deer hunting, also offer a lot of potential but do have special regulations.
What Makes Pennsylvania So Good
For starters, no state recognizes "Deer Day," the opening day of deer season, in the same capacity as Pennsylvania. For years, the state recognized the first day of firearms season as an unofficial holiday, during which hunters would take off work the Monday after Thanksgiving to hit the woods.
That since has changed, as in 2019, the Pennsylvania Board of Game Commissioners moved opening day to the Saturday after Thanksgiving. However, the tradition still remains strong.
Additionally, Pennsylvania boasts strong deer numbers with an estimated population of 1,300,000, and sells an average of 650,000 licenses per year.
The state holds a number of impressive records hunters can aspire to, particularly their all-time typical and non-typical bests, which have held true for many years. The Pennsylvania Boone & Crockett typical record was a 202 7/8-inch buck Frederick Kyress took in Montgomery County in 1962. And, the B&C non-typical record was a 233 1/8-inch buck Edward Dodge took in Erie County in 1942.
It's had 82 total B&C typical entries and 39 B&C non-typical entries.
While CWD has plagued much of the state, the massive amount of available public land, especially for an eastern state, simply cannot be dismissed.
Top-end harvests aren't what they once were, but the quantity is still something to behold, as since 1993, Pennsylvania hunters have harvested more than 400,000 deer in a license year 10 times, according to a 2021 report by the Pennsylvania Game Commission.
In the 2020-21 season, the statewide buck harvest–174,780–set a new record for the antler restrictions era, increasing by 7 percent from 2019-20, which was already up 9.5 percent from 2018-19.
"About a quarter of the state's deer hunters took a buck in the 2020-21 deer seasons," said David Stainbrook, the Game Commission's Deer and Elk Section supervisor. "It's a trend that hunters have maintained over the past three license years. The fact that we can maintain such high success rates on bucks year after year demonstrates the sustainability of the deer population in Pennsylvania."
NEXT: 10 COMMON WHITETAIL DEER DISEASES THAT ARE PLAGUING HERDS NATIONWIDE
The post Why Pennsylvania Deer Hunting Ranks Among the Country's Best appeared first on Wide Open Spaces.