YouTube Screenshot: Georgia Outdoor News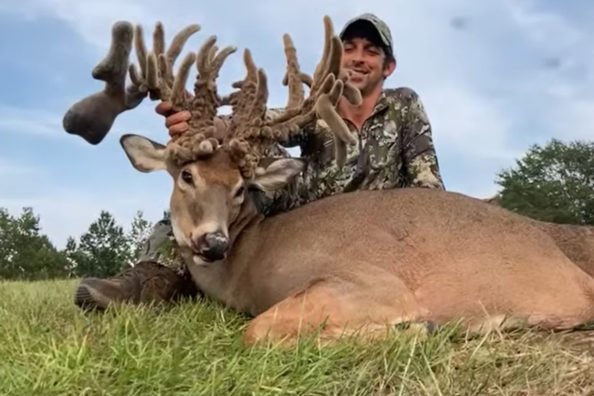 There's a big buck down in Georgia, and it's a bit freaky.
Across the county, hunting seasons are starting up and big bucks are already falling to many early season hunters. However, Georgia's Benny Overholt's early season buck may top them all for this year. The lucky hunter managed to down a giant velvet non-typical with points going in every direction.
Georgia Outdoor News reports Overholt watched the monster Macon County buck for three years. He found one shed antler off the giant buck and even passed him up at one point knowing the deer had the potential to be the deer of a lifetime.
After a close encounter that ended with no shot on opening day, Overholt finally caught up with the deer again this past Monday when it presented a 33-yard shot opportunity in the last half-hour of shooting light.
Initially, Overholt was worried he'd messed up the shot. He told GON he thought he had gut shot the deer. As a result, Overholt and his family gave the buck six whole hours to expire. They came into the search armed with a tracking dog. The hunter's worries ended up being for naught. The searchers found the big buck only made it 20 yards past the last spot he had seen him before the animal expired. From the photos, it appears to be a perfect double lung.
The most interesting aspect of this deer is that last year, the buck never shed his antlers. He stayed in velvet all season long and once the growing season started again, the deer just started adding to his already unique rack. This type of deformity is sometimes referred to as a "cactus buck," and deer like this usually have some sort of testicular injury. There was no word on if the Overholt buck had such a problem.
"I don't care if people say he's ugly, because in a sense, he's ugly, but he's unique, very unique," Overholt said in a short video interview with GON.
There was no word on a possible score for this giant or even how many points it has at this point. It is worth noting that while Pope and Young does accept velvet entries, Boone and Crockett Club does not unless the velvet is stripped from the antlers prior to scoring. We will have to wait and see where the Overholt buck falls in terms of all-time Georgia bucks. Either way, congratulations to Benny on one heck of a deer from everyone at Wide Open Spaces!
Products featured on Wide Open Spaces are independently selected by our editors. However, when you buy something through our links, we may earn a commission.

For more outdoor content from Travis Smola, be sure to follow him on Twitter and check out his Geocaching and Outdoors with Travis YouTube channels.
NEXT: THE AXIS DEER AND HOW THEY'RE IMPACTING PARTS OF THE UNITED STATES
WATCH
The post Monster Non-Typical Whitetail Bagged By Early Season Hunter in Georgia appeared first on Wide Open Spaces.