How many frogs are on the market today? At ICAST this year I think four or five more were introduced. Lets get it straight, is there a difference? Yes. Year ago I wrote a simple article for a company called Fish Harder Companies called Battle Frog, which really needs to be re-done, but one frog you all should have in your small selection of top water frogs should be the Snag Proof Bleedin' Frog With Attitude. It the publishers go to frog and it NEVER losses, period.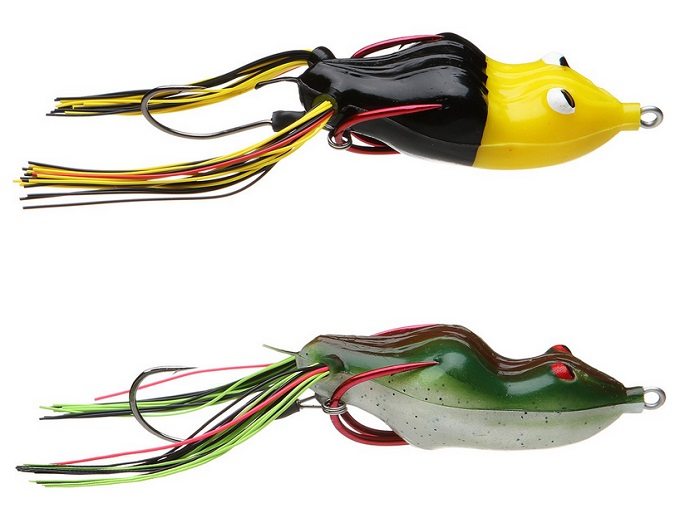 The Snag Proof Bleeding Frog with Attitude takes the proven-effectiveness of the Bleeding Frog and combines it with the lethal hooking power of Snag Proof's Attitude Trailer Hook. The Bleeding Frog gets its name from its red Owner Wide-Gap Double-Hook that makes it look like wounded prey, and helps trigger the strike reflex in bass. In addition, the Attitude Trailer Hook, made with a sticky sharp 3/0 Gamakatsu EWG hook, allows you to convert more short bites and near misses into fish in the boat. The Snag Proof Bleeding Frog with Attitude also features an internal glass rattle system for added fish attraction, as well as, premium skirting laced with red strands that help add to the illusion of a bleeding frog. Easy to walk in open water and hop over matted vegetation, the combination of hooks, detail, and action makes the Snag Proof Bleeding Frog with Attitude a great addition to any anglers arsenal.
Order here >>> https://www.snagproof.com/store/index.php?route=product/product&path=70_102&product_id=52
The post Whose Up For A Froggie Recommendation? appeared first on ODU Magazine-North America's #1 Digital Fishing Magazine.