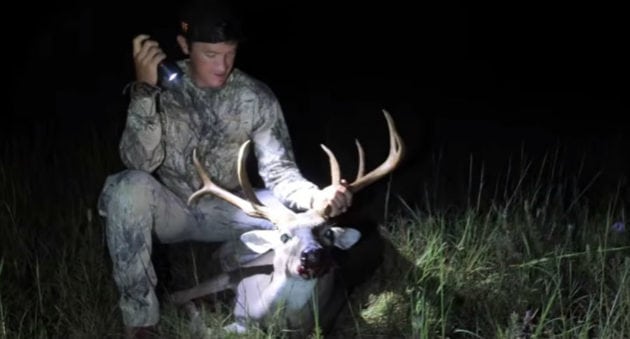 LFG makes an awesome shot on this wide-racked Texas whitetail!
We all know and love Lake Fork Guy for his awesome bass fishing videos on YouTube. But in recent years, he's been expanding a bit to include hunting in his videos, too.
As a new father, he obviously hasn't had much time to sneak away lately. But he did manage to get away for this early-season hunt.
So for today's #WhitetailWednesday, here's one of the first successful whitetail hunting videos of 2018. And trust us when we tell you it's a good one. You have to see the perfect 31-yard shot he makes on this wide-racked buck!
Great shot, Justin! It doesn't get much better than this. We were just as nervous as he was watching this video. But in the end, he makes a perfect shot and a very clean kill. To top it off, this buck has some incredible character indicative of an older deer.
Justin went from a frightening diagnosis of a train tumor a year ago to recently becoming a new father, and now shooting the biggest buck of his life in just under a year! It's pretty crazy to think about how fast life comes at you and how quickly things can change for the better. This buck is going to look great on Justin's wall.
Congratulations to Justin on one heck of a buck!
NEXT: VIDEO: LAKE FORK GUY LANDS 16-POUND PEACOCK BASS
WATCH
The post #WhitetailWednesday: Watch Lake Fork Guy's Hunt for a Wide-Racked Texas Buck appeared first on Wide Open Spaces.