YouTube: Wired Outdoors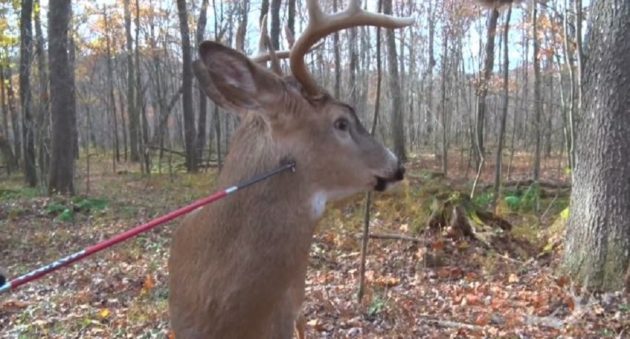 This unbelievable footage will leave you scratching your head.
We've seen some pretty strange videos of deer this season, with many showing a complete lack of fear around humans, which isn't good. The following video might be the best yet and will undoubtedly leave you wondering if this buck is curious, overly friendly or downright dumb.
Kyle Schwabenbauer, co-host of the television show Wired Outdoors, filmed this incredible footage on the last day of the Pennsylvania archery season. And as you're about to see, his encounter with this buck on the way to his treestand left him pretty much speechless.
Watch the video below:
Feel free to pick your jaw up off the ground. Pretty crazy, right?!
As you could clearly see, this buck had quite a large bump on the left side of his head. This leaves us to believe Schwabenbauer's rut-injury theory may be more than credible. Regardless, this buck didn't even blink while getting its antlers rattled with a broadhead. This must have been some blow to the head by a bigger buck!
If you want to see an equally crazy video, check out this clip of a small buck which won't leave a hunter and his downed deer alone.

Did you enjoy this post? CLICK HERE to view more articles by Justin Hoffman. You can also check out his Photography Site Justin Hoffman Outdoors, as well as follow him on Facebook Justin Hoffman Outdoors, Instagram hoffmanoutdoors, Twitter @HoffmanOutdoors, or subscribe to his YouTube channel Justin Hoffman.
NEXT: HUNTER HARVESTS DEER WITH A LOCKED-UP DEAD BUCK'S HEAD ATTACHED
WATCH
The post Whitetail Buck Walks Right Into Hunter's Arrow appeared first on Wide Open Spaces.