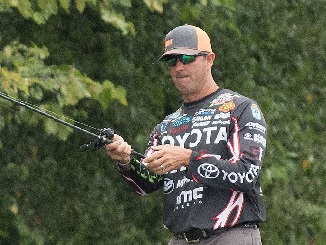 Story Clip From Bassmaster.com: There are two big prizes at stake this week on the Mississippi River: 1) the Toyota Bassmaster Angler of the Year title, and 2) GEICO Bassmaster Classic berths.
While the final results in both categories won't be decided until next week in the AOY Championship at Minnesota's Mille Lacs Lake, the picture will become clearer over the next four days at the Plano Bassmaster Elite at the Mississippi River presented by Favorite Fishing.
In the AOY race, the contenders must cut into Gerald Swindle's lead if they're going to have a chance to catch him next week, when the field will include only the top 50 Elite Series anglers. If the current standings held, only Keith Combs – 37 points behind Swindle – would have a mathematical chance of catching Swindle, as everyone else is more than 50 points back.
Here's a glimpse of the AOY standings coming into La Crosse:
Angler                                      Pts. back       
1. Gerald Swindle                    ­——
2. Keith Combs                        – 37
3. Randall Tharp                      – 62
4. Greg Hackney                      – 70
5. Jacob Powroznik                  – 77
Continue reading this great article from Bassmaster – https://www.bassmaster.com/news/whats-stake-week
The post What's at stake this week with the Bassmaster Elites? appeared first on .