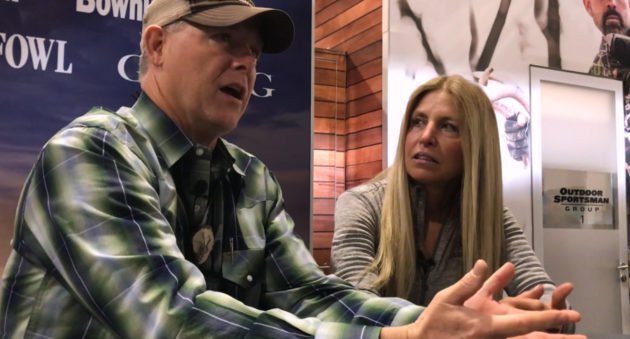 WATCH THE VIDEO
We spoke with Fred and Michele Eichler, and they were eager to convey this message to everyone.
By now anyone who's into hunting knows Fred Eichler. He's a master bowhunter who's traveled the world and taken a bucket list of game animals, because that's the way he's chosen to occupy his time on Earth. He's a hunter, and damn proud of it.
We wanted to talk with him at this year's SHOT Show, and his wife Michele Eichler was kind enough to join for a few questions and answers.
They talked about their new show "Everything Eichler" on Sportsman Channel, which focuses on their entire field-to-table lifestyle. That was the precedent for the message they conveyed in the video above, which highlights what's so great about living the way they do, and how important it is to learn from it.
The response stemmed from a simple question: Is hunting's future bright or bleak? They indirectly answered that if more folks come to understand their way of life, they'll realize that hunting isn't what a lot of people will lead you to think.
Whether it's ignorance, misunderstanding, innocent curiosity, or blatant disregard, the future of hunting depends more on those who are practicing its tenets and ethics than anybody else. The Eichlers' message is clear: be proud of who you are, and know that hunting is an important way to fulfill life's needs and wants.
You don't have to do "Everything Eichler," and we don't think that's the point Michele and Fred were trying to make. You do need to give it respect, take something away from it, and at least do your part to preserve the things we care about most in life.
NEXT: NEW MOM MELISSA BACHMAN TALKS ABOUT HUNTING WHILE PREGNANT
The post What Everyone Needs to Know About Hunting, According to the Eichlers appeared first on Wide Open Spaces.