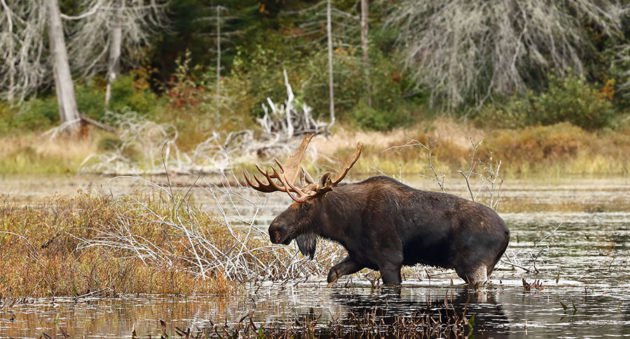 Hunting in Canada can be the adventure of a lifetime.
If you live in the United States, you might not realize the amazing hunting opportunities that are waiting just north of the border in Canada.
An incredible variety of big game animals can be found in the great white north.
Here are just a few of the species you can target in your hunting adventures there this year.
Whitetail Deer
Saskatchewan has been home to the world record typical whitetail, Milo Hanson's 213 5/8-inch monster shot in 1993. This province is home to no less than THREE typical bucks that break the 200-inch barrier.
In fact, the provincial record book requires a minimum score of 165 antler inches to even be considered for entry! That's how you know you're in the land of the giants.
Hunting during the rut in Canada can be the experience of a lifetime. While Saskatchewan gets most of the big buck attention, don't overlook Ontario, Alberta, or Manitoba either. All these provinces have produced world-class whitetails for residents and non-residents alike over the years.
We suspect it will continue to be a whitetail deer hunting hotspot for years to come.
Bears
Canada offers up some of the best black bear hunting on the planet. The bruins spend their summers feasting and packing on the pounds for the long Canadian winters. As a result, multiple provinces have produced record book animals.
The number two biggest ever Pope & Young black bear, a 22 13/16 monster, was taken in Manitoba. Saskatchewan and Alberta are also considered prime bear hotspots, but don't count out Ontario or New Brunswick as bear destinations either.
British Columbia used to be one of the top grizzly bear hunting spots known to man, but in 2017, a ban on hunting them was instituted and it doesn't look like it will be lifted anytime soon.
Muskoxen
These shaggy beasts are a throwback to the ice ages. Although there are scattered populations of muskoxen at high northern latitudes all over the world, Canada is home to the best hunting for them. The Pope & Young world record is shared by two bulls from the Northern Territories.
It's a similar situation in the Boone & Crockett record book, as two 129-inch bulls share the title. One was hunted in the Northern Territories and the other, taken in Nunavut, was shot by Jim Shockey in 2006. A hunt for one of these animals, which can weigh upwards of 1,000 pounds, isn't cheap. But it is the remote hunting trip of a lifetime!
Caribou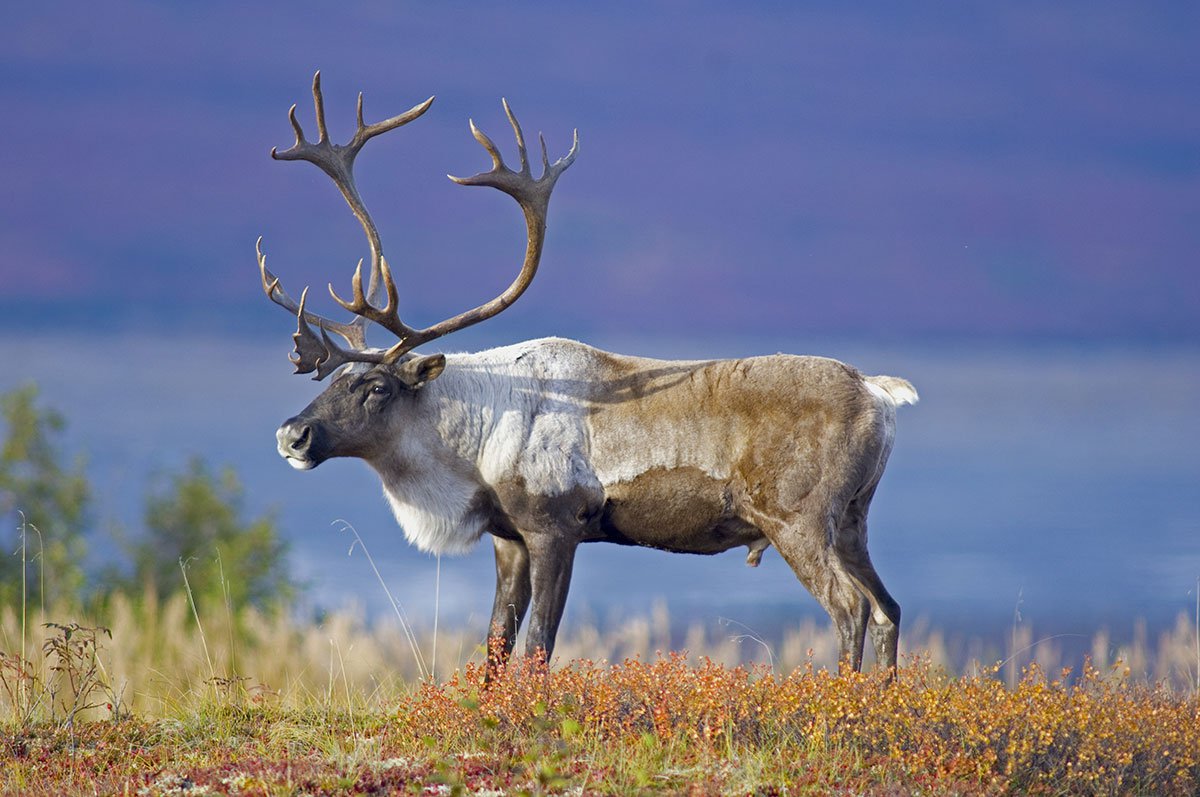 Just like the muskoxen, Canada is the only place to go if you want a world class caribou. In the Pope & Young record books, Canada makes a clean sweep for every subspecies record. Newfoundland holds the Woodland Caribou record. The Northern Territories holds the Central Canada barren ground record. The Yukon territories is home to the 416 4/8-inch mountain caribou archery record and Quebec is home to the Quebec/Labrador caribou record. Although, it is worth noting that Quebec ended caribou hunting in 2018.
In Boone & Crockett's books, the only caribou record to NOT come from Canada is the barren ground record which came from Alaska. Most notable in B&C's book is Paul Deuling's 459 3/8-inch mountain caribou record, an animal that has held the record since 1988. It's safe to say, if you want the caribou hunt of a lifetime, you've got to head north.
Mountain Goat
British Columbia is king for the world's top mountain goat hunting destination. Both the Pope & Young and Boone & Crockett world records hail from this province.
This animal is one of the toughest big game challenges in North America, mainly because of the incredibly rugged terrain these animals inhabit. Make sure you get your exercise before a trip, because mountain goats are regularly found at elevations of 5,000-7,000 feet!
The only downside to mountain goat is the difficulty of getting a chance at one of these hunts. You must apply for a draw. When you do get a tag, it's wise to hire a guide because British Columbia is quite restrictive on what you can shoot. It's billy goats only and if you're unfamiliar with the animal, it can be difficult to tell the males apart from the females. A guided goat hunt with a seasoned outfitting group can cost nearly $15,000.
Mule Deer
Canada is such a whitetail hotspot that many hunters forget there are plenty of trophy mule deer to be had in the western part of the country. Chip Lake, Alberta produced the Boone & Crockett non-typical muley a 355 2/8-inch monster. What is even more amazing than the record is the fact that Ed Broder shot this buck all the way back in 1926! That's a long time for any deer hunting record to stand.
Neighboring Saskatchewan quietly holds the Pope & Young world record for a non-typical mule deer, a 291 5/8-inch beast shot by Dennis Bennett in 2008. Many states in the U.S. get all the attention for trophy mule deer, but don't overlook our neighbors to the north. Canada may be the best-kept secret in the world of muley hunting!
Blacktail deer
The two subspecies of this deer are found in abundance up and down the coasts of British Columbia. Any hunter looking for the blacktail hunt of a lifetime would be wise to start here. There are plenty of outfitters who can help guide you to a monster sitka or Columbia blacktail deer.
Alaska and Oregon are often the two locations most hunters think of when they think of either game species. But Boone & Crockett records the biggest typical North American sitka blacktail deer as a 133-inch buck taken by Peter Bond outside of Juskatia, British Columbia in 1970. So, the world-class animal potential is there!
Dall Sheep
This is not a cheap hunt. Hiring hunting outfitters to guide you to a trophy dall sheep is going to cost you roughly $20,000 at least. But dall sheep are found in good numbers in British Columbia, Yukon and the Northwest Territories. The challenge is going to be hunting them.
The hunting area these animals inhabit is steep and rocky, making it tough to keep your footing and stay stealthy as you try to avoid their prying eyes.
But the opportunity of the animal of a lifetime is always there in Canada for the hunters tough enough to seek them out. The current Pope & Young world record, a 174 0/8-inch monster was taken in the Yukon Territories by Dan Reynolds in 2012. Canadian provinces are responsible for five out of the top 10 sheep in Pope & Young's record book.
Stone Sheep
British Columbia is considered the top stone sheep hunting location in the world. It's not surprising when you consider nine of the 10 biggest stone sheep ever taken with a bow were shot there.
A ram from British Columbia also holds the top spot in Boone & Crockett's record books, a 196 6/8-inch monster shot back in 1936 by L.S. Chadwick.
This sheep is a subspecies of the dall and it is also found in extremely remote areas. Some hunters overlook this species if they're pursuing a sheep slam because an easier to hunt species, the fannin sheep, can be substituted in its place. But for hunters looking for a real challenge, the stone sheep is a game animal to consider.
Rocky Mountain Bighorn Sheep
Montana is generally thought of as the go-to destination for this sheep species, but there are plenty to be found in western Canada too. In 1998, Todd Kirk arrowed a huge, 199 5/8-inch monster near Whitehorse River, Alberta that is still one of the largest rams ever shot.
Even though these bighorn sheep are widespread across North America, getting a tag is tough; but you probably have a better chance in Canada than anywhere else. The downside is, you'll have to pay for it. You're looking at anywhere from $25,000-30,000 for a one-on-one 12-day guided hunt.
Moose
There are no less than three different subspecies of moose that can be found in Canada. The one most people know is the Canada moose. As the name implies, the largest specimens ever harvested have come from Canada. British Columbia and Quebec are the two top producers of world-class Canada moose.
The Yukon and Northwest Territories are on pretty much equal ground with Alaska when it comes to which place produces the biggest Alaska/Yukon moose. The Northwest Territories has the distinction of being home to the top bull in Pope & Young's record book.
No matter which species you're after, moose hunting in Canada offers plenty of chances at the trophy of a lifetime.
Cougar
If you're looking to harvest a big cat, Canada has plentiful numbers. The Boone & Crockett world record was harvested in Tatlayoko Lake, British Columbia in 1979. British Columbia and Alberta have both produced mountain lions that make Pope & Young's top 10 of all time.
Hunts for mountain lions in Canada can be expensive however. Expect to pay an outfitter anywhere from $9,000-12,000 to lead you to where these elusive and beautiful creatures like to hide.
For more outdoor content from Travis Smola, be sure to follow him on Twitter and check out his Geocaching and Outdoors with Travis Youtube channels. 
NEXT: THE 10 BEST ELK HUNTING AREAS IN NORTH AMERICA
WATCH
The post What Big Game Species Can You Hunt in Canada? appeared first on Wide Open Spaces.