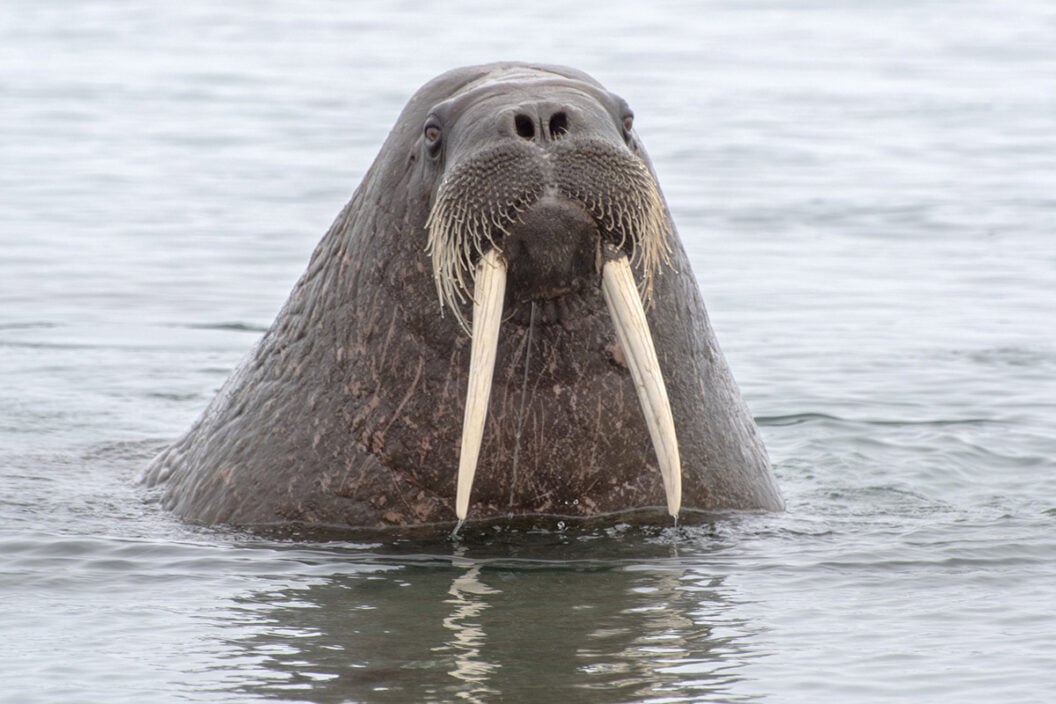 Three hunters from Sanirajak, Nunavut found themselves holding on to a glimmer of hope and freezing aluminum when a walrus managed to flip their boat and toss them into icy, lethal water.
Back in March, Joey Sarpinak, Sandy Kunuk, and 15-year-old John Kirk Amagoalik launched a small aluminum boat from the floe edge with the hope of harvesting a walrus. Near a town of only 900 people in in Northern Canada, the trio were fortunate enough to spot one, take a couple shots, and connect. To keep the animal from sinking, Sarpinak began preparing a harpoon.
The wounded walrus had different plans: It resurfaced and started climbing onto the hunters' boat–likely trying to get out of the water to nurse its injury–and tipped the boat and all of its passengers out into the water.
"The only thing I thought was, 'We're going to die,'" Joey Sarpinak told CBC News. "That's all I thought."
The hunters' one saving grace was the minuscule amount of air trapped between the capsized boat and the water, which provided just enough buoyancy to afford the hunters some time out of the freezing water. However, they could only hope help would spot them, all while they were standing up against the arctic elements with no guarantee of survival.
"That's how we survived," Sarpinak told CBC. "Being cold for too long, it becomes normal. We stopped even shivering."
All three sat atop the boat wet, in -4°F weather. They were fortunately able to make a distress call to local search-and-rescue volunteers around 2 p.m. However, ocean currents and shifting ice made it difficult for the rescue team, even causing one of the volunteers to get injured in the process.
The trio ended up having to wait six hours for the sun to set and the ice to harden before they could attempt to crawl back across to safety.
"I thought, 'What else can go wrong?'" volunteer George Innuksuk told CBC. "We kept our calm and continued the mission."
When the three did finally make it back to land, they were immediately sent to the local hospital where they were all cleared without any serious issues. But when they finally were able to go home, a homecoming celebration hosted by their local community awaited them.
"I've never felt like that before," Amagoalik told CBC. "I was so happy when I got home."
The post Walrus Flips Boat and Strands Hunters for 6 Hours in Icy Water appeared first on Wide Open Spaces.