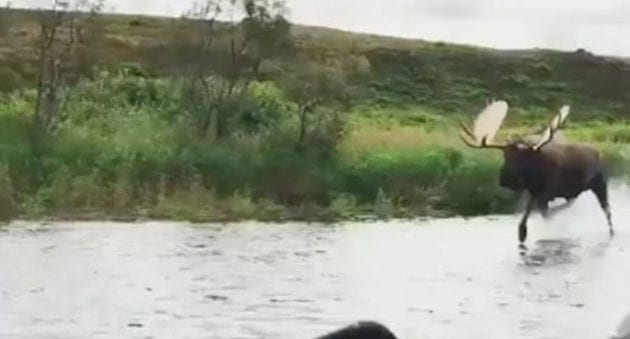 Watch an Alaskan Bull Moose keep up the pace with a moving boat.
Instagram user Gabe Nyblad took an epic video of a bull moose chasing his boat in Alaska. Incredibly, the moose seems to keep up with the moving boat by simply trotting right next to it!
Watch and listen as the men in the boat realize it's not going away anytime soon. Thankfully, they were able to get some stunning footage, moving boat aside.
Here's an ode to how fast these giant creatures really are! Did you think you could outrun one of these?
Just listening to the sound of the wind in the microphone, the movement of the water, and the sound of the engine should be enough for you to realize how fast that animal is moving.
Moose sometimes give the wrong impression that they're slow moving, slow-witted and docile creatures, when just the opposite is true. What would've happened if their boat broke down?
Even when we're not hunting these magnificent creatures, we can find ways to appreciate their existence!
Looking for a little more? Follow my webpage, or on Facebook and Twitter.
NEXT: YOU PROBABLY FORGOT TO ADD THESE 5 THINGS TO YOUR DEER SEASON CHECKLIST
WATCH
The post Video: Yes, a Bull Moose is Just as Fast as a Motor Boat appeared first on Wide Open Spaces.