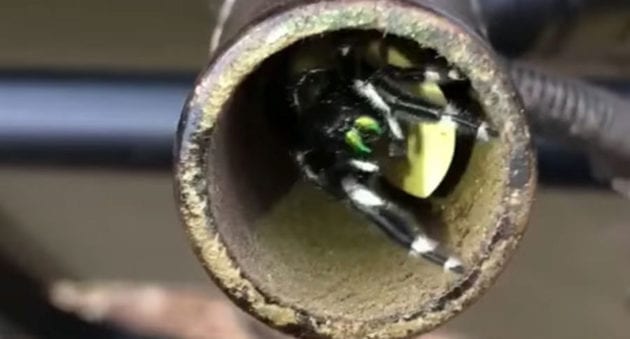 This is why you should always check your gear beforehand, especially anything you put near your mouth.
It's an honest mistake anyone could make. You leave a bunch of your hunting gear in the garage after a trip, and it stays there until the next. You grab it on your way to the truck and think nothing of it.
However, this video illustrates why perhaps you should. You never know what could've crawled up into your stuff, and in this particular case, learning the hard way would be an absolute nightmare.
Watch the video below:
You've been warned… Video from David McElwain filming for Country Roots/Mossy Oak GameKeepers at Giles Island.

Posted by Mossy Oak on Thursday, November 29, 2018
Could you image putting a grunt tube up to your mouth without realizing this thing was in there? Talk about a bad day!
This is a reminder that it's always smart to look over all your gear before and after using it. As this video clearly shows, it's always better safe than sorry!
NEXT: MAN ACCIDENTALLY CAUSES HUGE WILDFIRE AT GENDER REVEAL PARTY
WATCH
The post Video: This Will Make You Check Every Call You Own Before Using It Again appeared first on Wide Open Spaces.