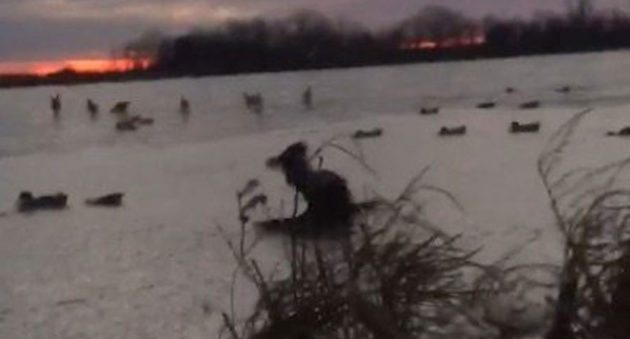 A beautiful retriever discovers some solid ice, but never stops for a second!
Many of us have hunted the ice, and sometimes it's thick ice just like this.
Sometimes the dog will tippy-toe over it, and sometimes they'll just take care of business without any hesitation!
Here's the latter, where a flying lab turns into a sliding wonder of retrieving glory!
Safe to say ol Bell is always 100% wide open. But also safe to say she didn't realize how thick the ice was this mornin lol

Posted by Richard Ellerbe on Tuesday, January 2, 2018
We'd like to thank Richard Ellerbe for sharing his comical, yet slightly painful video of this beauty in action!
Looked like Bell was a little slow coming back, but that didn't mean that she wasn't raring to go again. Here's to the four-legged hunter in your family!
NEXT: GIRL GETS LABRADOR RETRIEVER AND RING IN THE SWEETEST PROPOSAL YOU WILL EVER SEE
The post Video: Retriever Beefs on the Ice, Handles It Like a Boss appeared first on Wide Open Spaces.