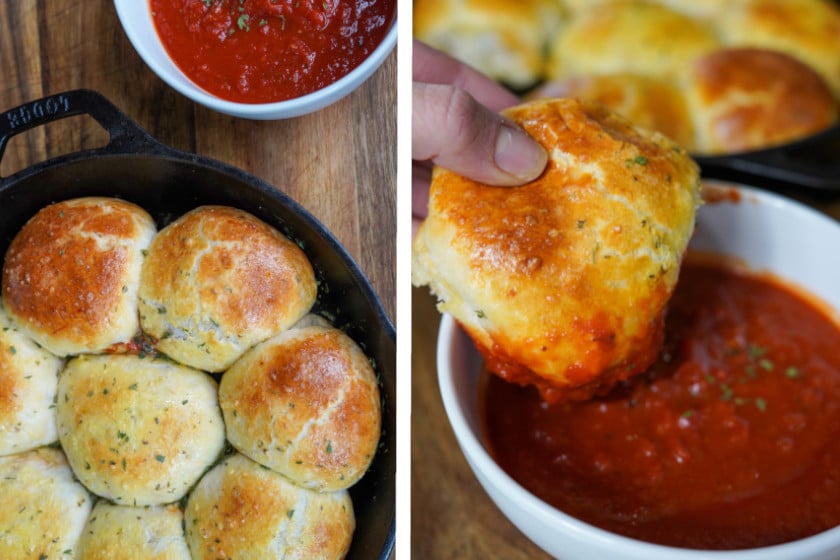 Who doesn't love pizza? Most people probably don't think of incorporating their venison in a pizza recipe, but that's what makes today's recipe for venison pizza bombs so unique. They take a little bit of prep work since you need to prepare some cooked venison sausage first. However, once cooked and served with a little dipping sauce, they make for an incredible treat the whole family will love.
Be sure to check out my new cookbook, The Weekend Wild Game Cookbook: Easy, Everyday Meals for Hunters and Their Families, available on Amazon.
Venison Sausage
1/4 pound ground venison
1/2 teaspoon paprika
1/2 teaspoon garlic powder
1/2 teaspoon thyme
1/4 teaspoon salt
1/8 teaspoon fennel seeds
Pinch red pepper flakes
Pizza Bombs
1/4 pound venison sausage, cooked
1 (8 count) can Southern Home-style buttermilk biscuits
1 (12.3 ounce jar) pizza sauce, divided
4-6 deli pepperoni slices, diced
1/2 cup shredded mozzarella
1 egg beaten
1/2 teaspoon garlic powder
1/2 teaspoon dried oregano
2 tablespoons grated Parmesan cheese
Recipe Directions
1. Preheat the oven to 375°F and spray a 12-inch, cast iron skillet with nonstick spray.
2. Brown the venison in a large skillet, breaking it up as it cooks. Season with paprika, garlic powder, thyme, fennel, salt and red pepper flakes. Stir in the seasonings. Once the venison is browned, add in diced pepperoni.
3. Remove the biscuits from the can and place them on a clean work surface. Using a rolling pin, flatten each biscuit to about ?…?-inch thickness.
4. Top each biscuit with 1 tablespoon of pizza sauce, 1 tablespoon of the venison mixture, and a sprinkle of mozzarella cheese.
5. Fold the edges of the biscuit together, pinching them tightly so there are no holes or gaps. Place the bomb seam side down into the prepared skillet. Repeat with the remaining bombs.
6. Whisk together the egg garlic powder, oregano and Parmesan in a small bowl. Brush on top of the bombs.
7. Bake for 20-22 minutes, or until the biscuits are golden brown. Serve with remaining pizza sauce, warmed, for dipping.
The post Venison Sausage and Pepperoni Pizza Bombs appeared first on Wide Open Spaces.