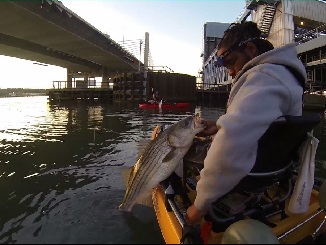 In this video I'm fishing one of my favorite rivers in New Haven, Connecticut. During this time of year the mouth of nearly every river in the state is on fire. There's usually bait everywhere and the ticket to a good trip is locating the bait.
Actually the hardest part of my last few trips has been locating the bait. For some reason there are no big schools where I'm fishing and the schools that are around are staying down in the water. The bait I'm looking for is bunker or menhaden.
Usually these fish are in the upper part of the water column and they splash around a lot so they are easy to locate. Lately they have been swimming in the middle of the water column so it's been a struggle to get on them. But with a little patience, experience, and luck the bunker will eventually show their faces.
When I'm fishing these bridges the Hobie® Mirage Pro Angler 14 is so effective. I have it equipped with a Lowrance Chirp 7 that allows me to locate the fish that I'm targeting and once I've done that I use my MirageDrive® to get myself in the proper position so I can present the live bait to the fish waiting to ambush its dinner. The ability to be able to have full contact and control of my fishing rod while propelling myself over the fish with the use of my MirageDrive is a tactic that is second to none! There's nothing better.
Check back weekly for new videos and stories by the 2016 Hobie Fishing Top Guns.
The post Urban Striper Smackdown appeared first on .