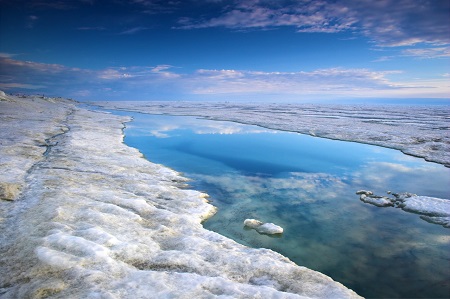 NOAA joined the Department of State as part of a United States delegation for the October 3 signing of the Agreement to Prevent Unregulated High Seas Fisheries in the Central Arctic Ocean (CAO) in Ilulissat, Greenland. The historic agreement represents a collaborative and precautionary approach by ten countries to the management of high seas fish stocks in the Central Arctic Ocean. The agreement covers approximately 2.8 million square kilometers, an area roughly the size of the Mediterranean Sea.
Ice has traditionally covered the high seas of the central Arctic Ocean year-round. Recently, the melting of Arctic sea ice has left large areas of the high seas uncovered for much of the year. The Agreement bars unregulated fishing in the high seas of the central Arctic Ocean for 16 years and establishes a joint program of scientific research and monitoring to gain a better understanding of Arctic Ocean ecosystems. It also authorizes vessels to conduct commercial fishing in the CAO only after international mechanisms are in place to manage any such fishing. This effort marks the first time an international agreement of this magnitude has been proactively reached before any commercial fishing has taken place in a high seas area.
Signatories include the United States, Canada, the Kingdom of Denmark, the European Union, Iceland, Japan, the Republic of Korea, the Kingdom of Norway, the People's Republic of China, and the Russian Federation.
The post U.S. Signs Agreement to Prevent Unregulated Arctic Commercial Fishing appeared first on .