Isaac Neale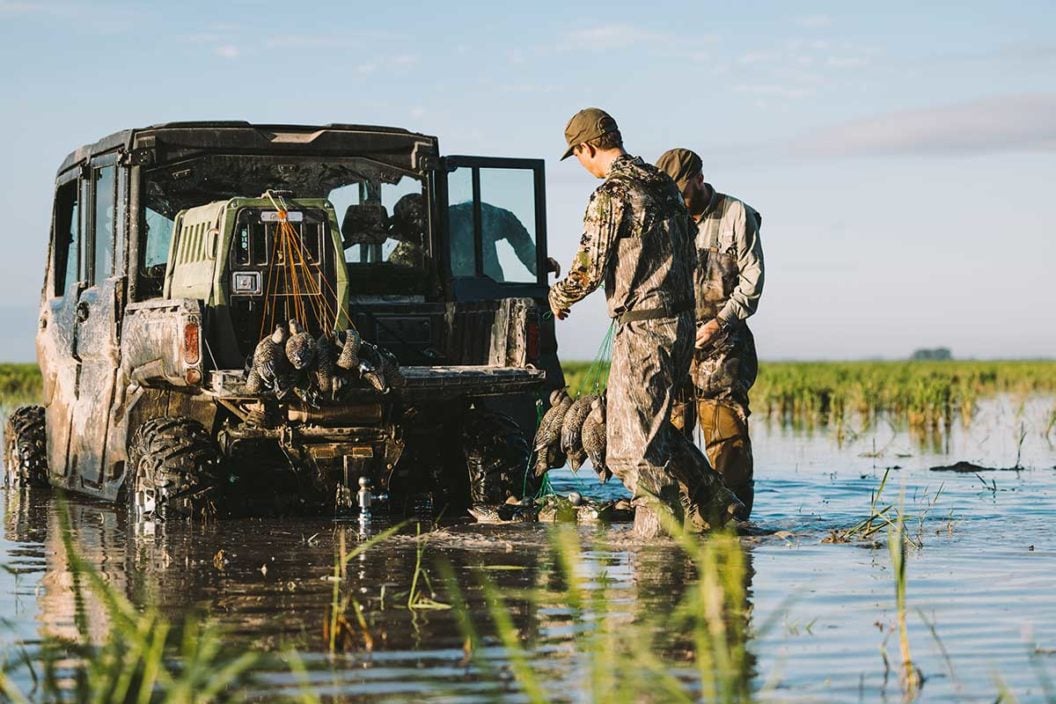 Texas Teal is a duck camp like none other. I figured that out right away, based on the greeting I got from Heyday Outdoor director of business development J.J. Gustafson. I could tell this was the event he most looked forward to in the early portion of the Texas waterfowl hunting season. The look on his face, his eager enthusiasm, and his make-yourself-at-home attitude instantly welcomed me and the other guests that would take part in an exceptional gathering of like-minded folks, and some seriously great teal hunting in one of the best places to do it in the country.
The trip came about thanks to a connection with Can-Am, which is the UTV maker of choice for the Heyday crew, and a big part of the TXTeal event. To say these guys have the use of a Can-Am dialed is an understatement; it's essential to have these kind of machines at your disposal when you're hunting on some of the first-ever rice fields to be planted in the state. While nearby El Campo, Texas gets a lot of the credit these days as a hot spot for ducks, it's actually the tiny town of Provident City, Texas that Heyday calls home.
"One of the founders of Heyday, his great-grandfather kinda was one of the pioneers of that area, and brought rice to that part of the world," Gustafson said. "El Campo, generally, might be the spot, but if we're talking about 'the X,' it's Provident City."
So they have their prime location, they have their stellar hydrofoam duck decoys, they have their Can-Am machines, they have their dogs, and they have their shotguns. All they really needed after that was an excuse to get folks out there to experience it themselves. That's where the idea for the TXTeal event was born, and I was thrilled to be a part of it.
Rice and Water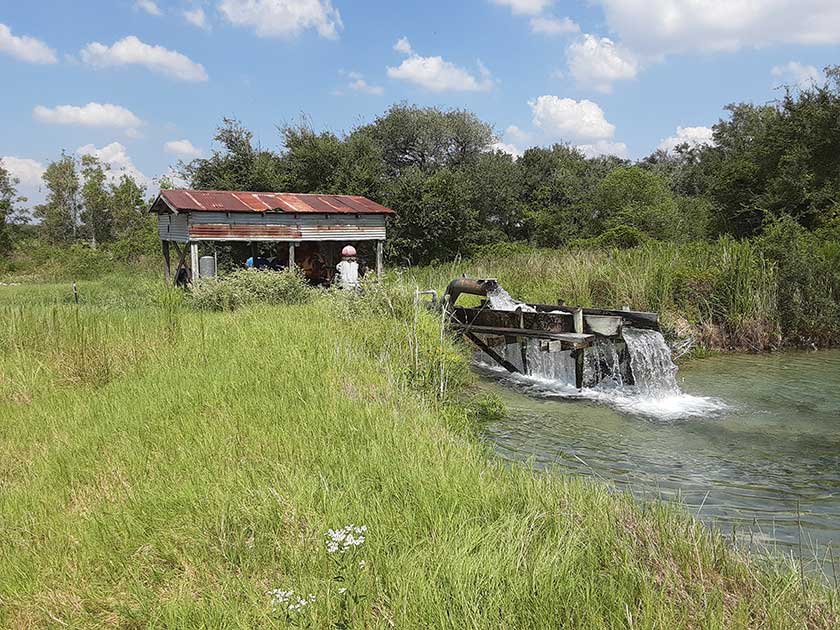 I was curious to learn more about the history of Provident City, and there's actually an interesting piece of the story that ties in. Provident City wasn't able to offer much to prospective settlers in the early days of Texas statehood. While some towns were able to attract people with promises of opportunity and prosperity, Provident City came up short, and was really only able to hint towards the likelihood of a train station being built, though that never happened. In a situation that reminded me of the monorail episode of The Simpsons, the train never showed, and the people either left or never arrived in the first place. Some even call it a ghost town. One main building remains–an old hotel that's now serving as a pretty nice bunkhouse for duck hunters.
In a last-ditch effort to salvage the area, rice was planted as a possible solution. Though it wouldn't turn Provident City into a bustling town, it did bring a new agricultural boon to the region, and a whole lot of ducks as a result. Water is pumped from the main artery river into the rice fields, bucking the typical concern for farmers in this part of the state: drought. When other spots struggled to grow crops and support livestock, Provident City managed to both survive and thrive.
Now that the rice has had generations of time to establish itself, Gustafson and his crew are sitting on a bunch of land that ducks love to be on. And that "ghost town" idea? It's pretty far-fetched when you hear all the shotgun blasts, loud party music, and revving Can-Am engines during a late-September Texas teal hunt.
The Gathering
When I say this was a collection of hunters unlike others I've been around, I mean that in two ways. First, it was young and lively. Don't let that get misconstrued as less passionate or less experienced; everyone in attendance was all about hunting, and they put me and my mediocre wingshooting skills to shame. The future of hunting, both in the participation and business side of the industry, thrived in this group.
The other thing that stood out was less related to hunting, and more to modern culture. I can't say it had a hipster feel to it, because no one was making choices just to seem cool or "with it." But they all had a style and personality that seemed more "bar patio in Austin" than "hunt camp in small town Texas." To be honest, the people I met and hunted alongside represented a part of our society that's extra promising in terms of what we're making of ourselves and how we're building relationships. Many were college friends or had known each other since they were kids, but also treated newcomers with respect and instant camaraderie. I spent time talking about hunting, like I would in any other hunt camp, but I also talked music, food, and of course parenting young kids. Like me, several of my compatriots at TXTeal were dads to youngsters, and that made for a great way to see eye-to-eye.
They came from places with strong hunting cultures like Arkansas, Oklahoma, Georgia, Michigan, and of course Texas, and had jobs or side gigs that wrapped around the idea of enjoying your time spent outdoors and among friends. One of the minds behind TurtleBox, the weatherproof Bluetooth stereo, was there, along with a knife maker, a cattle ranch owner, a crew of YouTubers, a a bevy of young, eager hunting dogs, a kennel and training facility operator, and reps from Apex Ammunition (who, by the way, created some awesome custom shotgun shells for the event with Heyday's logo on them). And that just scratches the surface. There were a ton of people there, not all to hunt, but to participate in what was essentially a big party.
Of course, Ol' Bart was there, with his Traeger smoker and heavy duty deep fryer. Chef Bart Likes cooks up the kind of food you wouldn't try to pull off yourself, but it totally hits the spot when someone who really knows what they're doing prepares it. We were fed well, let's just say that. It was a great group to be around, and only indicated that the time spent in the duck blind was going to be above and beyond what I could have ever expected.
Time to Get to Work
Again, the overall vibe at TXTeal was so comfortable that the morning before our first hunt included something I've never witnessed before: blaring hip hop music as a wake up call, thundering through the predawn darkness. I smiled as I pulled on my Chêne Gear waders, knowing full well the Can-Ams would take us as far into the knee-deep flooded fields as we'd need to go. The UTVs made decoy spreading and collecting simple, quick tasks. It's worth pointing out how convenient Heyday's decoys are, too. The company, formerly known as Lifetime Decoys, spent a lot of time figuring out how to make an extremely light, nearly-indestructible decoy that will literally last a whole hunting lifetime. You can shoot them straight on with a 12-gauge, drive over them with a Can-Am, or toss them out in white-cap, windy conditions and they'll still perform. They worked like a charm, and were pulling in ducks before shooting light as we eased into the blind for the first time.
Like I said, I struggled to down my share of ducks, but there was action throughout the morning and plenty of opportunities. As a group, we probably didn't connect with nearly as many shots as we should have, but that just made for a better chance to tell jokes and laugh at ourselves. Truth be told, that's often just as fun as shooting a limit anyway.
In fact both mornings went that way: a nice, rhythmic wake up call, a collection of great guys in a blind, and a young pup ready to retrieve the ducks we managed to drop. The numbers were better the second day, and I saw some of the most impressive shots I've ever seen in a blind. Teal are certainly worthy of the "Rice Rocket" nickname, and don't make it easy. The most astonishing part was when one of my blind mates caught a duck as it fell from the sky. It didn't hurt that it was John Doxakis, a pitcher currently in the Tampa Bay Rays system. Still, it was a viral video-worthy moment, and it was actually captured on camera by Heyday's stellar videography team and posted to the Heyday Outdoor Youtube Channel. See for yourself!
Watching Gustafson and his black lab Rain retrieve the haul of teal that second morning was a fantastic way to cap off the hunting, and as we loaded up the Can-Ams for the ride back to wash up and head home, I couldn't get the smile off my face. This was a one-of-a-kind trip, and I was honored to have been a part of it.
Enjoying the Heyday
Early on in my time in Provident City, when Gustafson was driving us around in a Can-Am and touring the land and properties we'd be hunting, he opened up a bit more about Heyday's philosophy and the idea behind the name change. What could be perceived as a corny sales pitch actually rang true, and helps sum up what the TXTeal event has come to stand for.
I'm paraphrasing, but Gustafson essentially said that something clicked when he stepped back and saw what he'd helped build. He knew that if he viewed it with the right perspective, he's literally living through the best days of his life, right here and now. That doesn't mean that he and the company don't have things to look forward to. On the contrary, it's their way of countering the idea that "Things were way better back in the day," a mentality that's pretty easy to adopt in the hunting community.
Making and selling decoys is just a part of it. I was also able to learn about some of the unfortunate negative reactions to the name change, mostly through online comments from people who feel the need to share sour opinions any time they have them. But I did notice that a good portion of the commenters managed to squeeze in the fact that they'd still buy the decoys, because they're pretty much the best available.
Gustafson knows what he has, and he's not taking it for granted. He wants to appreciate what's happening in the present, and it's easy to do when you surround yourself with folks like the ones who were at this hunt camp. When people grow older and lose availability, mobility, and even motivation, it gets a lot harder to organize and pull off events like the Heyday Texas Teal get-together. Now's the time to make the most out of it, and that's what I took away from the experience.
The post TXTeal: Hunting Ducks and Enjoying Life With Heyday Outdoor and Can-Am appeared first on Wide Open Spaces.