Ashley Eve TikTok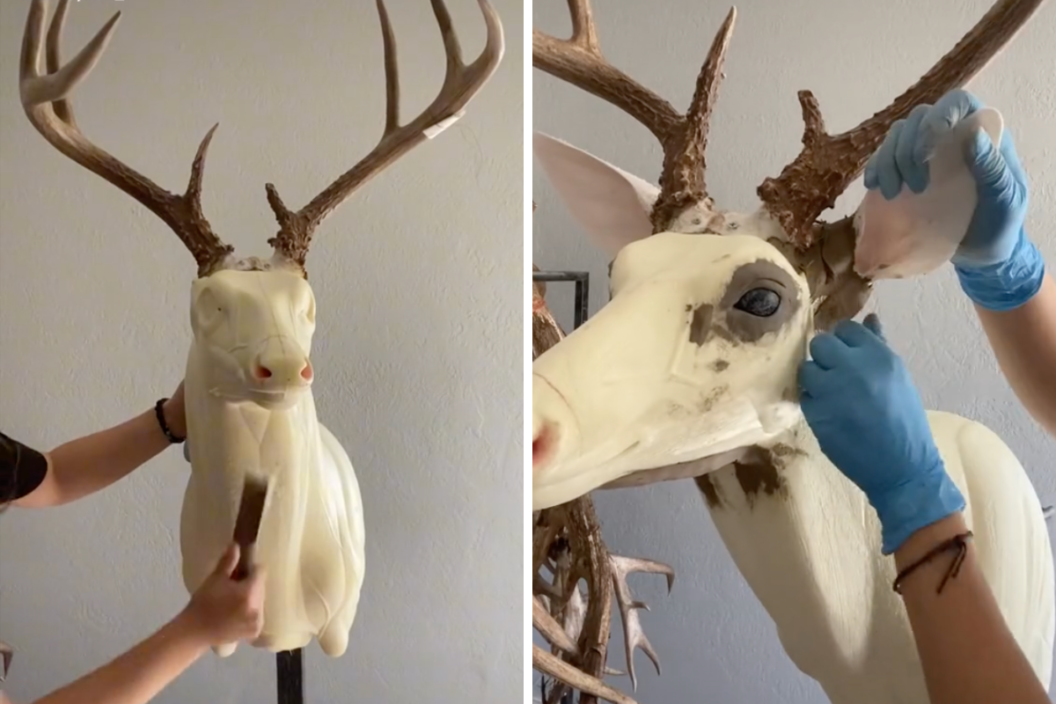 The average person likely doesn't realize what goes into mounting game animals after hunting. However, taxidermy on TikTok is helping show us the other side of preserving our hunting memories. Taxidermy is an art form, and one deer taxidermist took to the platform to show the world how she puts together a whitetail deer mount. User Ashley Eve posted the video to TikTok showing the sped-up process from start to finish, and it absolutely blew some people's minds.
Ashley starts with the antlers attached to the deer form in the video. She makes quick work of placing the ears and eyes with clay. To get the "mannequin" ready for glue, she roughs it up and pulls off the ear forms and antlers. After the glue is spread all over the form, Ashely places the skin and maneuvers it around, getting it mostly in place. The ears and antlers get repositioned into their original spots, and Ashley spends a lot of time working on the face and the eyes, expertly tucking the skin to get it just right. The hide gets attached to the back and the excess skin is cut off. For the final touch, Ashley runs a brush over the entirety of the hide. In the video, Ashley says the mount will need to dry for a couple of weeks, and he "will be ready to paint."
While it's a relatively quick look, Ashley gives a pretty comprehensive view of how the whole process works, and from the video's comments, the first-hand tutorial was much needed. One TikToker commented, "Wait, wait, wait. It's not the actual deer's head that is mounted?!?!" Another followed it up, "Not me realizing just now that taxidermy is just the pelt applied to a mannequin." The best: "I was today years old realization comment was, "MY LIFE HAS BEEN A LIE. I THOUGHT THEY JUST CUT THE HEAD AND NECK OFF AND MOUNTED IT." Of course, that thought could be attributed to some seriously fantastic taxidermy work. If you are not a hunter or a taxidermist, there's little chance you know how the process actually works. Another viewer wrote, "The fact that so many people are finding out how taxidermy work from this video has me weak😂" Of course, Ashley had the most gracious response," You don't know until you know."
The post Taxidermist Demonstrates How to Mount a Whitetail Deer in TikTok Video appeared first on Wide Open Spaces.