whitetailguruhunting.com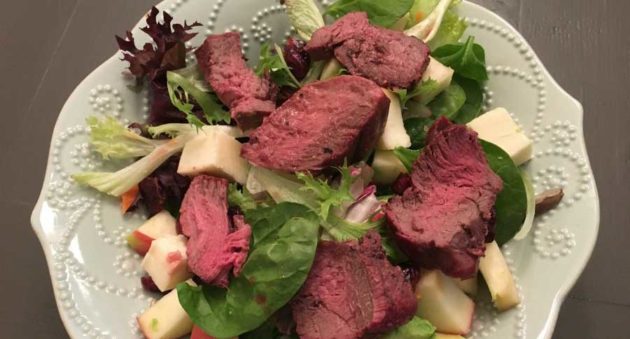 I tried this venison steak salad recipe recently, and it's too good not too share. 
First you'll need a venison steak, so whether you have one stored in your freezer or you have to ask your neighbor who hunts that'll be the first step.
Obviously with a salad, there are several different options and substitutes for the ingredients. For now we'll stick with what I used.
You'll need to gather your toppings. We mixed in chopped apples, mozzarella cheese, avocado, bacon, spinach leaves, and other salad greens. You may also add cherry tomatoes and onions if you choose.
I started the charcoal grill about an hour in advance of when we wanted to eat in order to place the steak on coals that rose to a high heat. This venison steak salad recipe is healthy yet satisfying because it combines protein, fruits, vegetables, and dairy. And of course, it's as free-range organic as you can get!
Ingredients
1 venison sirloin steak or flank steak
1 pink lady apple
1 bag mixed salad greens
2 cup spinach leaves
1 cup mozzarella cheese
1 avocado
1 cup Worcestershire sauce
1 tsp ground black pepper
1 tbsp kosher salt
4 slices of bacon
Directions
Place venison steak in a medium pan and pour Worcestershire sauce over venison steak for marinade.
Sprinkle ground black pepper and kosher salt evenly over venison steak.
Let soak for 2-to-3 hours.
Heat grill to high heat.
Place venison steak on grill rotating sides every 3-to-5 minutes.
Cook until steak is warm pink on the inside.
Cook bacon in oven on 350 degrees for 10 minutes or until crispy.
Mix salad greens and spinach in one large bowl.
Add chopped apples, diced cheese, diced bacon bits and chopped avocado on top of greens and mix until even throughout.
Remove steak from grill and place on cutting board for 10 minutes.
After 10 minutes slice thin strips of venison steak and place on top of salad.
Pour desired salad dressing over salad and serve.
As aforementioned, this venison salad is very easy, but extremely delightful and not heavy. It leaves you satisfied and feeling good about yourself and your choice for dinner.
For other great venison recipes click here.
Like what you see here? Read more hunting articles by Nathan Unger at whitetailguruhunting.com. Nathan is also the host of the Whitetail Guru Hunting Podcast.
NEXT: WATCHING MINK HUNT MUSKRATS MIGHT BE THE COOLEST THING YOU'VE SEEN ALL WINTER
WATCH
The post Try This Venison Steak Salad Recipe for a Healthy Alternative appeared first on Wide Open Spaces.