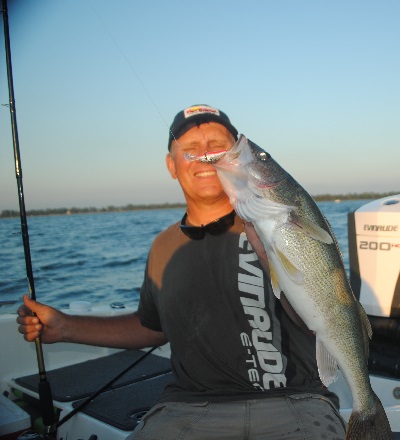 It's summer.  The water is warm, there are lots of baitfish in the water, there are lots of people fishing, and there are lots of fish that are looking for something to eat, and fish that want to eat are easier to catch.  Trolling is a great way to present a bait, and you might be surprised how fast you can troll and still catch fish.  Following are some ideas for trolling fast to get more fish to eat your bait.
Different species of fish will be found in different places this time of year.  In some lakes, walleyes will be relating to deep structure.  In other lakes they'll be suspended, and in some bodies of water they'll be hanging near the weedline. 
Then consider northern pike.  In lakes that have lots of cabbage weeds, pike will be over the weeds and along the deep weedline, but if there's deep water and suspended baitfish in the same lake, you can bet that the truly big pike will be out there suspended also.
So, how do we catch'em?  A favorite trolling lure is a crankbait.  Crankbaits were made to go fast, you can get crankbaits that run deep or not so deep, and pretty much every specie of freshwater predator fish likes to eat crankbaits.
For trolling, a longer, say 7 ½ or 8 foot rod in a medium action with a softer tip will be a good trolling rod choice.  Cabela's has several rod/reel trolling combos in their DepthMaster Series that do a great job and are priced right.
The longer, softer action rod is more forgiving.  When you're trolling fast, fast being faster than two miles per hour, a lot of pressure is on the rod, and the longer, softer action absorbs that pressure very well.  When a fish hits, the rod bends and the hook is set automatically.
Trolling fast works best when the fish are spread out.  The faster trolling speed enables us to cover lots of water.  Much of the time you'll catch a fish here and another one a little farther along.  I run a Raymarine sonar that enables me to put in an electronic marker every time a fish is caught.  By doing this, we can set up a trolling run that takes us back over the productive water.
More and more we're using planer boards to help us cover water.  In states that allow multiple lines per angler, the boards allow us to get several baits in the water without tangling.  We can cover different depths and experiment with a lot of different lure styles, colors, and sizes.  Off Shore boards are easy to use and run true even at faster speeds.  They're the choice of many trollers.
The Salmo Hornet in the #5 size is a killer, but a new bait called the Free-Diver has been turning heads when the fish are deep, say in the twenty to twenty five foot range and even deeper.
Twenty pound test braided line does a good job.  The diameter allows for additional running depth, and the non-stretch feature allows for good hooksets, but you can also clear the bait of weeds just by snapping the rod:  You don't need to reel the bait in to clear it of debris most of the time.
Next time you're on a lake you don't know very well, or if you just want to cover lots of water in search of a few biters, tie on a crankbait and troll fast.  If there are fish in the area, you'll know about it quickly.
To see all the most recent episodes of the Fishing the Midwest television series, new fishing related tips, and fishing articles from the past, go to fishingthemidwest.com  If you do Facebook, check us out for a variety of fishing-related things.
By Bob Jensen
The post Troll Fast For More Pike, Bass and Walleye appeared first on .