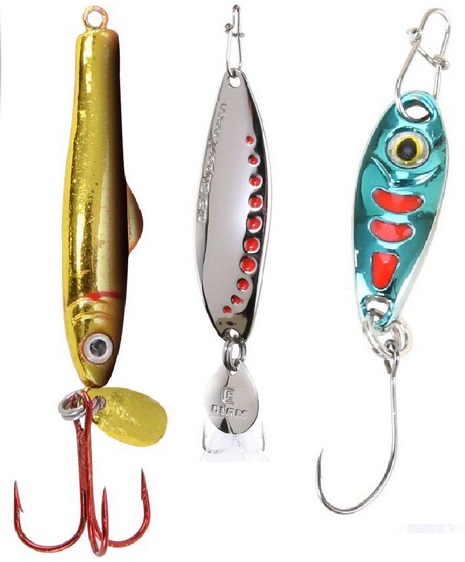 What to do you get when you fish a Pinhead Mino, a Super Leech Flutter Spoon and a Small Pea Spoon … A Basket Of Fish For A Friday Night Fish Fry. (Order link: http://stores.clamoutdoors.com/clam/tackle.html)
Anglers looking for one of the hottest lures on ice this year are in the right place. Clam Pro Tackle released the Pinhead Mino — a jigging mino designed to attract finicky feeding panfish and gamefish. The Pinhead Jigging Mino is sleek slab spoon designed to get back down to the school fast. It has the perfect injured minnow profile that dances in place when jigged. Panfish and gamefish are attracted to the noisy and flashy flapper. Its compact profile lets you be in constant contact with the jig for ultimate control and bite detection. And the PInhead Mino is designed with a "head down" look to attract upward feeding fish. This is a no-nonsense fish catcher that needs to be in every ice anglers arsenal.
The Super Leech Flutter Spoon is the larger version of the highly touted and successful ice fishing Leech Flutter Spoon. By popular demand we've introduced two new gamefish sizes ⅜ oz & ½ oz. A few of the same highly reflective plated color finishes and added a few new colors that flicker light like fish scales. Same lightweight and environmentally friendly Zinc Alloy material for the ultimate flutter. And fish love the attracting feathered treble. Plus we've added another element – a flashy and noisy lure flapper!
The Small Pea Spoon is slab spoon with a small, compact profile designed to reach the depths fast. The highly reflective colors and blood red ribs lure fish in. The single hook swings naturally to draw more strikes compared to traditional treble hooks. Designed to catch the largest panfish as well as pressured gamefish, the Small Pea Slab Spoon is sure to put more fish on the ice
The post Three New Lures From Clam appeared first on ODU Magazine-North America's #1 Digital Fishing Magazine.