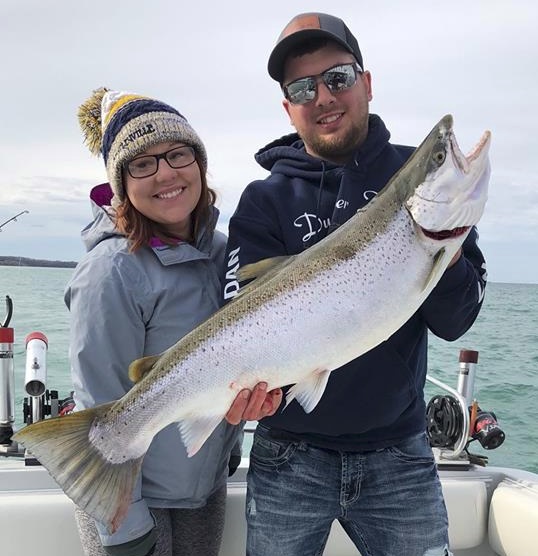 This week, Dan Small Outdoors Radio features CWD project leader Bryan Richards, charter captain "Dumper" Dan Welsch and McFarland fishing guide Ron Barefield. Dan reads a bear-hunting story by Bill Wiesner and reports on his turkey hunting. Jeff recaps the North American Bass Circuit Championship on Sturgeon Bay.
In the Hupy and Abraham Outdoor Report, Dan reads an excerpt from The Bear Hunting Obsession of a Driven Man, by Bill Wiesner, (https://www.targetcommbooks.com/, www.hupy.com)  
Bryan Richards, CWD project leader for the USGS National Wildlife Health Center, reports on the spread of chronic wasting disease in Wisconsin. (http://cwd-info.org/)
Charter captain Dan Welsch reports on Lake Michigan fishing action off Sheboygan. (www.dumperdan.com, http://www.parkerjohns.com/parker-johns-sheboygan/)
In the Fisher King Winery Madison Outdoors Report, McFarland guide Ron Barefield reports walleyes and bass are biting on Lake Wisconsin and bass are moving into spawning areas on the Madison chain. Morel hunting has started in earnest. (www.fisherkingwinery.com)
Dan Small Outdoors, LLC
http://dansmalloutdoors.com
dansmalloutdoors@gmail.com
Blog: http://blogtheroad.dansmalloutdoors.com
Twitter: dsoradio
Facebook: dsoradio
608-634-4082
414-588-4082 (cell)
Watch Outdoor Wisconsin every Thursday night on Milwaukee Public TV, Wisconsin Public TV and other stations around the Midwest. For information, go to www.mptv.org. Listen to Outdoors Radio with Dan Small on 11 stations in WI, including Newstalk 1130 WISN, Milwaukee at 6:00 a.m. Saturdays and 24/7 @www.lake-link.com/radio, @www.itunes.com, www.hardwater-angler.com or www.dansmalloutdoors.com. Outdoors Radio is also streamed twice daily @www.theradiofactory.com
The post This week on Outdoors Radio – 5/18/2018 appeared first on .