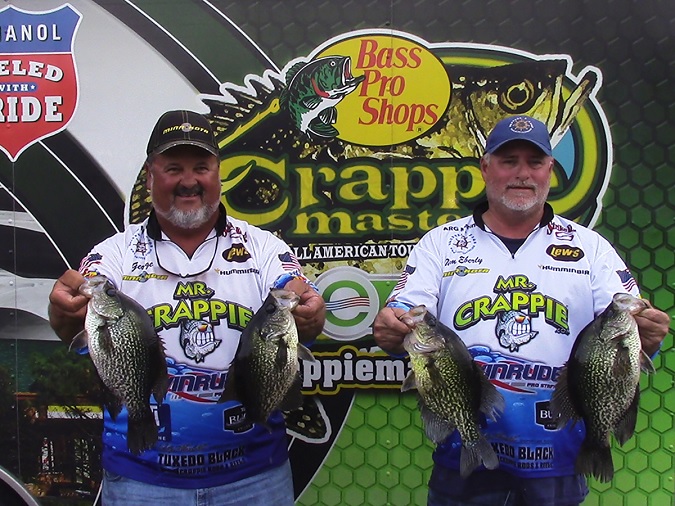 The weights Anglers brought to the scales at the Crappie Masters, sponsored by The Renewable Fuels Association, "Ethanol Fueled With Pride", American Ethanol, and Bass Pro Shops, St. John's River National Qualifier, and First Leg of the Florida State Championship February 1st and 2nd in Deland, Florida and sponsored by the West Volusia Tourism Advertising Authority, turned heads after day one weights over 14 pounds on 7 fish, and spun them completely around seeing two of the biggest Southeast fishing teams Billy and Scott Williams and eventual winners George Parker and Tim Eberly go toe to toe with both teams topping the astonishing 15 pound mark on Championship Saturday stunning a huge crowd at Ed Stone Park. Numerous cold fronts moving through daily or every other day frustrated many Anglers trying to find a consistent quality fish pattern which showed even through both "warmer" tournament days which played into a major, and either win or go home decision by Parker and Eberly who decided to take all poles out of their boat except for jigging poles putting all their eggs in the lily pad basket thinking with the steady warmer weather the bigger fish would move up and they did culminating in a 14 fish, 2 day weight of 29.41 pounds and 15.51 pounds on Crappie Masters Championship Saturday topping Day One leaders Billy and Scott Williams who also brought in over 15 pounds staying with the deep bite by .11 pounds with a 2 day weight of an impressive 29.30 pounds. Parker and Eberly weighed a 2.65 pound St. John's River kicker while Team Williams who lead with an impressive 14.18 after day one had to settle with a 1.80 pound low end fish which ultimately led to the runner up spot. Highlighting the versatility of the St. John's River fishery.
Parker and Eberly identified from experience that with the warmer weather there was a likelihood quality fish may move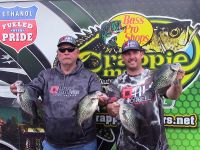 shallow back to the pads. The decision to commit to that pattern paid off handsomely moving from 4th place to the winner's circle. Parker and Eberly single poled pads in 4 foot of water using a combination of Skipper's Jigs. With the victory the team won $5,200.00 for the win and an additional $500.00 from the Missouri Corn Growers Association and American Ethanol for proudly using E10 fuel in their boat and taking the lead in the Florida State Championship points race. Parker and Eberly identified the key to victory as patience, and trust in their plan.
It was another heartbreaking runner up finish for the former Crappie Masters Angler Team of the Year, Billy and Scott Williams after going into Championship Saturday with the lead topping the day one scales at 14.18 pounds. Day two turned out better but in the end, not enough. Team Williams had a two-day weight of 29.30 pounds. Unlike the Parker and Eberly Team, Billy and Scott stayed with a 18 to 20 foot deep bite fishing a combination of double minnow rigs with gold hooks, custom made hair Jigs and Skippers Jigs. Team Williams took home $2,600.00 and are primed for a run at the Florida State Championship.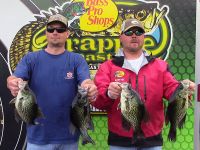 The third place team of Lamar Young and Justin Churchwell stayed with their original plan. With a two-day total weight of 25.58 pounds, which garnered them a check for $1,600.00 and keeps them in the hunt for a State Championship.
In fourth place was the team of Jim Freeman and Brian Bollenbacher with a two-day weight of 25.41 pounds. Freeman and Bollenbacher earned a check worth $1,400.00.
Rounding out the top five was the team of Terry Barker and Robert Harris with a weight of 24.99 pounds. Barker and Harris received a check worth $1,200.00 for their efforts.
Big Fish went to the 5th place team of Terry Barker and Robert Harris who popped the scale with a 2.77 pound St.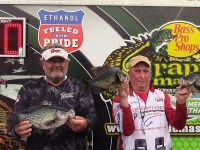 John's River dandy winning $756 dollars for their effort.
Top Male/Female team honors went to the HH Rods and Reels, and Foxy Fishing Gear team of Eric and Leeann Howard who received a Humminbird Helix 5 for their effort.
With a weight of 24.26 pounds top Adult/Youth team honors went to the back-to-back Adult/Youth Team of the Year David Simmons and Jaxon Hall who won a $100.00 Everharts Outdoor Store Gift Card plus a Minn Kota Trolling Motor.
Special thanks to local sponsors that include: West Volusia Tourism Advertising Authority, Highland Park Fish Camp, UDH Contractors and Porzig Realty.
Special thanks to our National Sponsors that include: Renewable Fuels Association, American Ethanol, Bass Pro Shops, Missouri Corn Growers Association, Humminbird, Minn Kota, Ozark Rods, Mercury Motors, Power-Pole, Millennium Marine, Muddy Water Baits, Jenko Fishing, Wyld Gear Coolers, Everharts Outdoor Store, HH Rods and Reels, Off Shore Tackle, Navionics, B'n'M Poles, Bobby Garland Crappie Baits, Midsouth Tackle, American Angler, Crappieholic, Frontier Metal, Valley Fashions, Crappie Now, Slider, Lake Fork Trophy Lures, The Original Rod Sox, Marine Metal Products, Timmy Tom's Jig Company, Crappie.com, Ardent, Fish-D-Funk, Skipper's Jigs, Foxy Fishing Gear, ProBuilt Jigs, Sure Life, Pautzke Bait Company, Fish N Tools, Quickfire, Monster Crappie Media and Huffman Publishing, and KMMO Brad & Brian in the Outdoors.
The post Thinking Shallow Pays Big Dividends In Comeback Victory for Parker and Eberly appeared first on OutDoors Unlimited Media and Magazine.