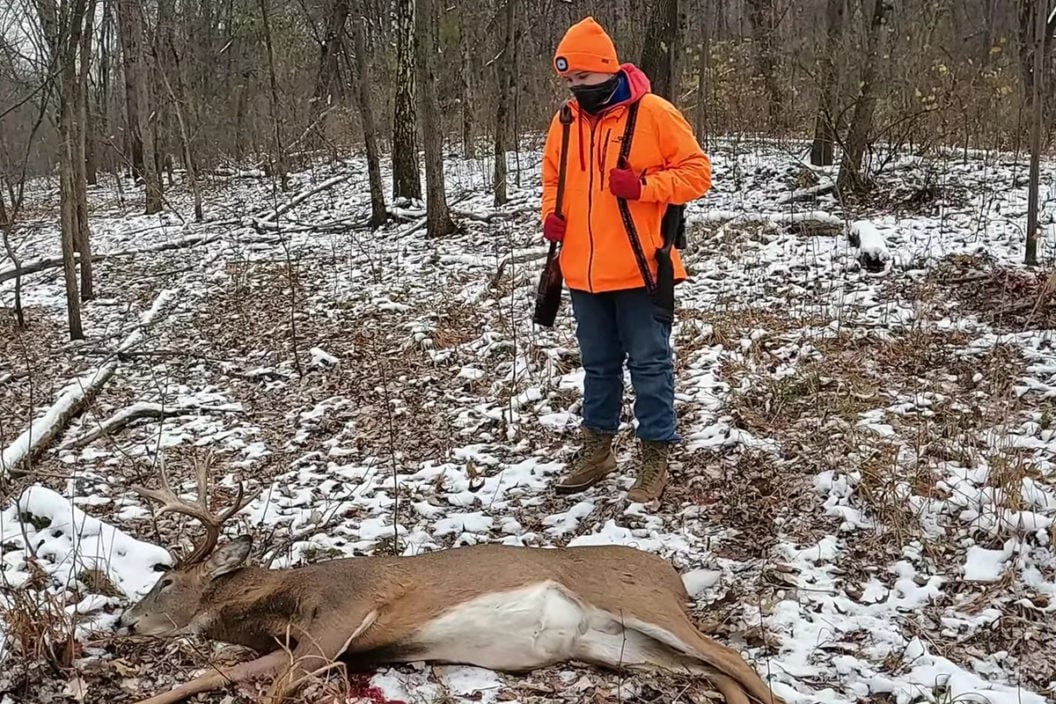 Every hunter knows there's something very special about harvesting your first buck ever. We can't even imagine what was going through 15-year-old Garrett Diehm's head when someone stole the big non-typical buck he had just harvested on the family's property last weekend.
Diehm shot the big buck on family property during opening weekend of Wisconsin's firearms season. According to the family's YouTube channel, the shot came from a blind owned by his uncle. Diehm didn't realize what he had just shot until he got down on the ground and saw a drop tine and a series of kicker and sticker points all over the 10-point main frame.
"When I went down there, I was shaking," Diehm told 27 WKOW News. "Even more seeing how big it was."
After admiring the deer and getting some photos and video, Garrett and his mom Sarah headed back up to the house for a quick bathroom break and to retrieve a wagon to get the deer out of the woods. To their horror, they came back to find the deer was gone. They called the Columbia County Sheriff's Office, who sent a deputy and a game warden who took a statement on the incident. The family also immediately publicized the theft on social media, warning others to be on the lookout for someone bragging about stealing a unique buck.
In the past, we haven't seen many people have a whole lot of luck in recovering a deer that was stolen. However, it was this teen's lucky day, because the next morning, the antlers and cape were sitting on the hood of the car belonging to the teen's grandmother. The family called the warden and sheriff back right away to investigate.
In a short video posted to the family's YouTube channel, a warden is shown inspecting the bagged head and cape. When the officer opens the bag, they find a registration tag attached to the deer's jaw. The video then notes that the thief returned and confessed to taking the deer. According to the video, he allegedly claimed he thought the deer was lost while someone was tracking it. The thief took the buck to a butcher and registered it in his name.
The unnamed person who returned the buck was subsequently charged with theft and trespassing. The family's YouTube channel notes the thief did apologize to the young hunter and is paying for the processing fees. This marks one of the few times a deer theft story has had a happy ending.
For more outdoor content from Travis Smola, be sure to follow him on Twitter and Instagram For original videos, check out his Geocaching and Outdoors with Travis YouTube channels.
The post Thief Takes Wisconsin Teen's First Buck and Later Returns It appeared first on Wide Open Spaces.