Getty Images: FantasyImages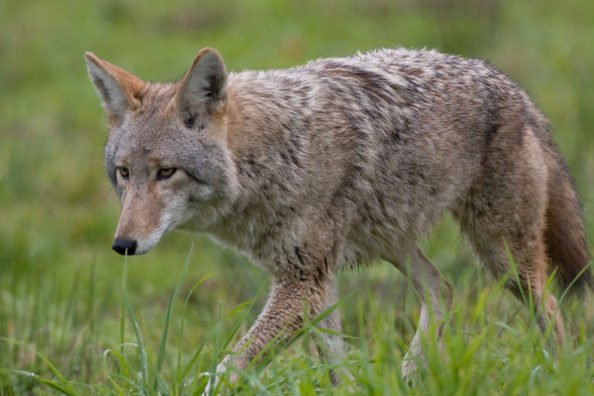 Ever just want to sleep in during hunting season? Here are five reasons why you can!
Even though we wait all year to hunt, we may still find that some of the hardest work is getting up early day after day to try and beat our favorite wild game to the punch. We push ourselves to get in the woods or the blind long before the animals begin their daily movements and for good reason, but do we always need to?
Sometimes it's not only better for our resting bodies to sleep in, but it can be better for our success rate as well. As we've found out over the many years of our hunting experience, sometimes it's just better to wait until later to begin the chase.
From upland birds to waterfowl to even the whitetail deer, hunting success can mean having more than just the patience to wait for the best shot. It can also mean having the patience to wait until a different part of the day to take part in our favorite pastime.
Coyote Hunting
This may be the most obvious choice, but it has to be said that some of the best furbearer hunting takes part in the afternoon and especially after dark. We hunt coyotes long after other hunting seasons have ended and for many reasons, but the fact remains that downing a yote that's coming in hard for your decoy or call is best done well after you've slept in.
Canada Geese
Early afternoon can make for some seriously good hunting time as the geese come off their morning feeding spots and head back to their resting area. Sure, at first light they are going to be looking hard for your spread and the food that it looks to offer, but in many areas geese have already been learning to get gun shy after the season has opened.
Now it truly behooves the serious goose hunter to pay attention to spreads, camouflage choice, and movement as geese become more and more wary. Sometimes waiting can be more effective than going out at the crack of dawn.
Pheasants
We love hunting everything in the morning and ringneck pheasants are no exception. The dew on the grass and the rising sun can put us in a frame of mind that has no equal, especially if there is a solid bird dog out in front of us.
I would have to honestly say that in my own personal experience chasing pheasants for a lifetime, that the afternoon hours are some of the best times of the day for finding roosters that have settled into their feeding patterns and now are intent on marking their territory from other birds. Hedgerows and field edges are the optimum places to find them.
Whitetail Deer
I've probably shot more bucks at first light that at any other time of the day, but the honest truth is that mature bucks have several peak movements times during the course of the daylight hours. As most deer hunters know, bucks that have settled in (many times with a doe) will often move again at around midday.
For many bowhunters, getting into their treestands just after the workday is over, or purposely waiting until afternoon to hunt is the greatest reason why they have so many terrific mounts in their game room.
Hogs
In some states like Texas, this kind of hunt is not only one that is best done after dark, but gives the promise of eradicating one of the worst nuisance animals on the planet. This is one of the greatest reasons why night vision optics have come into their own in this day and age.
Thermal sight hunting is not only quite effective on invasive hogs, but offers the hunter a great opportunity to gather some serious pork while cutting down the population. The best part is you don't have to get up too early to do it. As long as they are hungry enough, which is almost all the time, hogs can be found moving at just about any time of day.
Final Thoughts
We will always push ourselves to get up early to hunt our favorite game, it's just that we've learned it's not always necessary. The first order of business for the hard-working men and women of the hunting community is to be well rested in the effort to have their best mindset while in the field.
Safety is our greatest concern and not a full game bag. A sleepy mind tends to belay some of our basic instincts when it comes to being fully prepared to load and fire. Whether it is a bow or a rifle. We have all had a time in our hunting lives when we weren't firing on all cylinders in the tree or in the blind, and it is usually due to the lack of proper sleep.
Products featured on Wide Open Spaces are independently selected by our editors. However, when you buy something through our links, we may earn a commission.
Looking for a new way to display those antler sheds? Go to Rack Hub and use the coupon code Craiger. Be sure to follow my webpage, or on Facebook and YouTube.
NEXT: CAMOUFLAGE NETTING: 3 CHOICES AND HOW TO BUILD A BLIND OUT OF IT
WATCH
The post These Are the Hunts You Can Sleep In For (and Avoid Waking Up Early) appeared first on Wide Open Spaces.