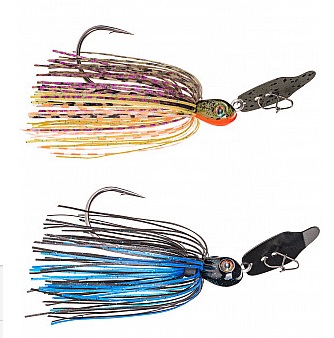 The pros at Strike King asked us to create the best vibrating jig on the market. They had some very specific needs and were very discriminating about quality. From the snap, to the paint, to the hook, every single component had to be premium and serve a distinct purpose. After many revisions, and many prototypes we have finally been given the green light. We would like to introduce you to your new favorite vibrating jig, the all-new Thunder Cricket from Strike King!
"The Thunder Cricket has the perfect action and vibration to get bass to bite. It also has all premium components to make sure that every bite makes it into your boat. There were no corners cut when we built this bad boy" says Mark Zona, host of Zona's Awesome Fishing Show. "The blade shape, skirt count, hook size and style, and the colors were all meticulously tested and unanimously agreed upon as the best possible option to make this bait superior. This is not your run of the mill bait. It is professional grade. But it will still be priced where you can feel good about buying it" Zona added.
The all-new Thunder Cricket comes in 4 sizes, 3/8, ½, 5/8 & ¾ oz. It will be available in 10 colors that are sure to be the prettiest things a bass has ever seen. Keep your eyes open for it in better tackle retailers everywhere following The Bassmaster Classic.
Related:
Southern Plastics Company Is Purchased By Lews/Strike King
New KVD MEGA Dawg from Strike King
Strike King Lures Is Acquired By Lews Reel Mother Company
The post The Strike King Thunder Cricket Vibrating Jig Intro'd At The Classic appeared first on OutDoors Unlimited Media and Magazine.