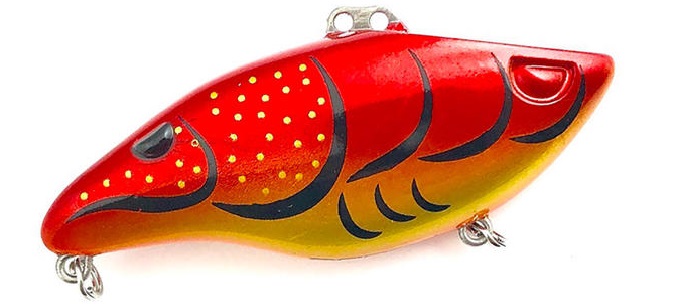 SPRO and Shin Fukae are excited to announce the release of a new rattle style bait called the Wameku Shad 70. Wameku means "loud talking and noisy" in Japanese and this bait lives up to that name. The Wameku Shad 70 features a very high pitch knocking sound that is very distinct, and different from other rattle baits currently on the market. On lakes throughout the country rattle baits are a staple of Springtime fishing. This can often mean fish become accustomed to the sound of certain baits and react adversely to the pressure. A key switch to a different bait or sound can often trigger fish that wouldn't react to previous casts. The Wameku Shad brings a never heard before frequency that will help get more bites this Spring.
Another unique feature of this bait is its multiple line ties, that create different actions from the same bait. The two-line ties allow an angler to change the action of the bait, simply by tying onto a different location. The top line tie can be used for a deeper more subtle action when you want the bait to get down. The bottom-line tie excels in shallow water, resulting in a more erratic action.
Wameku Shad 70 Features:
70 mm length

Weight 3/4oz

Two line ties for two actions

High pitch knocking sound from rattle chamber

Designed with Shin Fukae

8 colors
MSRP: $12.99
We are Sports Professionals. SPRO works with America's best anglers to design the world's finest fishing tackle. Using cutting edge technology and innovation, SPRO leads the way in developing the highest quality premium fishing equipment available. To learn more about SPRO Corp, please visit www.spro.com
RELATED:
SPRO Frog Tournament, set for Oct. 27, 2018
The first ever SPRO Crank Bait Tournament
SPRO Tournament Let's Look Back
The post SPRO Wameku Shad 70 Lipless Rattlebait Hits Tackle Stores appeared first on OutDoors Unlimited Media and Magazine.