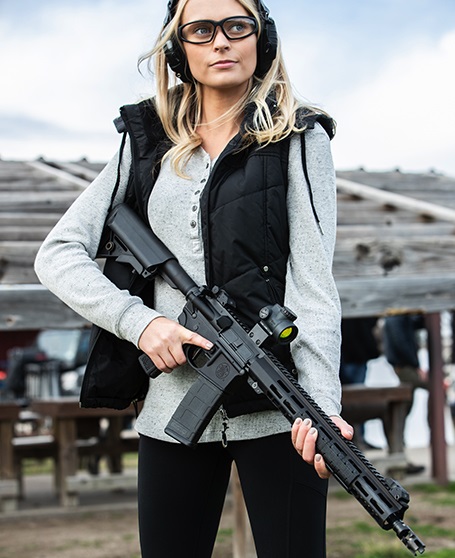 SHOT Show® is back! Launching today on the show floor is a new lineup of Smith & Wesson® Modern Sporting Rifles (MSR's). A new line of rifles designed entirely from the ground up deriving directly from our consumer's feedback; the Volunteer

line of rifles pays homage to the company's soon to be new home state of Tennessee, the Volunteer state.
Taking a completely new approach to the line, there are four groups of rifles; Volunteer XV, Volunteer XV OR, Volunteer XV PRO, and Volunteer XV DMR. At launch, there are 11 models across the families. While there are a great deal of differences between them, currently each is chambered in 5.56mm NATO/223 REM with 1:8" twist, 5R rifling.
The Volunteer VX is equipped with a B5 Bravo adjustable stock as well as a B5 pistol Grip which has a steeper grade angle than the traditional MSR grips, providing the user with proper trigger finger alignment. The flat-faced trigger geometry has a clean crisp break and the Bravo Company forend features ample M-LOK® slots for added accessories. The Volunteer XV OR has all the features of the standard Volunteer XV but also comes with a low profile, Picatinny mount gas block, which allows the end-user to have a clearer sight picture.
The Volunteer XV Pro rifles are equipped with a mid-length gas system that provides a smooth recoil cycle. The Volunteer XV Pro forend features a 15" free-floated handguard equipped with M-LOK slots for accessory mounting as close to the muzzle end of the firearm as possible. The barrel itself has a PWS muzzle brake to help mitigate recoil and muzzle flip. The XV Pro is also equipped with a B5 pistol grip and includes a B5 Sopmod stock, providing optimal cheek weld and pulls double duty offering storage for optic batteries.
With its rifle-length gas system, the Volunteer VX DMR is designed to help you reach out to those further targets. The 20" barrel is housed by a 15" free-floated handguard. Similar to the Volunteer VX Pro, the barrel is topped off with a PWS muzzle brake, B5 pistol grip and includes a B5 Sopmod stock.
See the entire Volunteer Series lineup
The post The NEW Volunteer Series …. Smith & Wesson appeared first on OutDoors Unlimited Media and Magazine.