Facebook: Tennessee Wildlife Resources Agency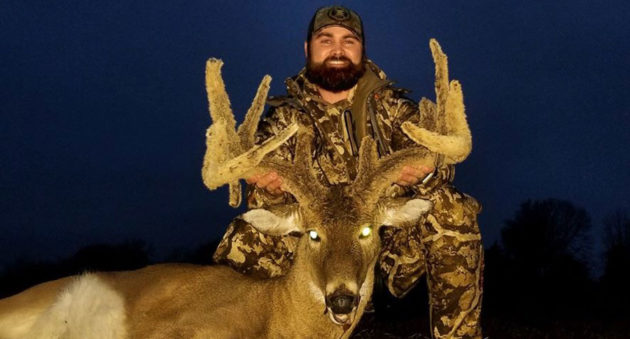 This buck was considered a "freak" deer by locals.
A man in Tipton County, Tennessee, was fortunate enough to harvest the deer of a lifetime when he went hunting Jan. 2, 2020. However, he and his quarry were no strangers.
A cryptorchid deer had made a quite a reputation for itself in the Covington area. It frequented a spot near a popular Walmart store, becoming a hot topic of conversation among residents.
Logan Hanks, however, who owns about 200 acres near the deer's favorite spot, had a more personal connection with the buck. He'd been watching and hunting it for three years, with trail camera pictures displaying the deer's bizarre velvet antlers.
In fact, he even got a shot at the deer last year during rifle season, but was plagued by "bad luck," as it moved right as he was pulling the trigger, resulting in a 160-yard miss.
His luck turned this year, though, as he finally got to lay hands on the rare, special animal.
Cryptorchidism is a rare condition that randomly occurs in whitetails because of a birth defect that prevents the testicles from descending, forcing them to remain in the abdominal cavity.
In this case, it caused the buck to keep its velvet year-round.
The 6 1/2-year old buck was no slouch, either. With 13 scoreable points and 191 inches (Boone & Crockett), this deer was an absolute monster.
It wouldn't be an easy shot for Hanks, though.
He'd memorized the deer's movement patterns to put himself in the woods at the perfect time and in the perfect position. The deer had continued to come from the same direction every day of the season, so he knew which way to point himself.
He had to readjust when a group of deer, including the cryptorchid buck, came from opposite direction. Reaching for his rifle, he spooked one of the does, pushing the buck out to about 100 yards at the top of a hill, but perfect broadside.
With rain pouring down and an already-small window closing, he took a free-handed shot, dropping the deer over the other side of the hill.
Sure enough, he found his buck–the same one he'd been looking at through his camera for three years.
NEXT: WATCH MULE DEER MIGRATING THROUGH WYOMING'S BAGGS CORRIDOR
WATCH
The post Tennessee Man Shoots Cryptorchid Buck He's Hunted for Years appeared first on Wide Open Spaces.