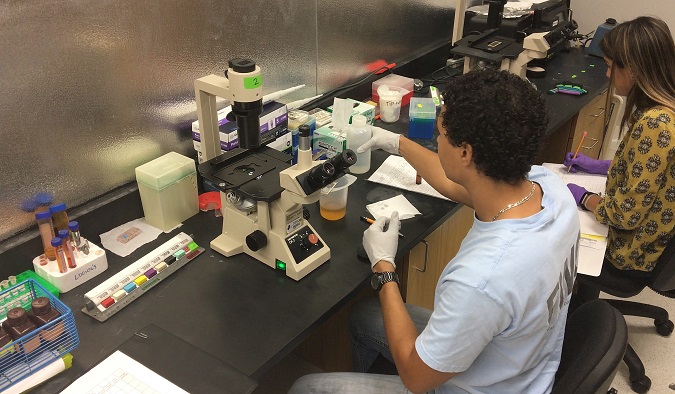 Scientists at the Florida Fish and Wildlife Conservation Commission (FWC) Fish and Wildlife Research Institute provided updates, demonstrated technology used to research and monitor naturally-occurring red tide, and highlighted the innovative public-private partnerships that support impacted communities and combat red tide.
Support from Gov. Rick Scott and teamwork among partners has been critical in responding to this event to protect public health, support communities and conserve fish, wildlife and their habitats.
Quotes:
"Last week, our Commission met in Tallahassee and we had a comprehensive review of past efforts related to red tide. Today, we were able to see firsthand the world-class facilities and scientists at the Fish and Wildlife Research Institute. This has been an ongoing challenge but, thanks to our Commissioners and Gov. Rick Scott, we announced a number of initiatives that are going to continue to push us forward as we deal with red tide. We all know we will recover, but it is going to take our continued partnership."
Eric Sutton, FWC Executive Director
"On behalf of DEP and our 3,000 committed staff and scientists, we are privileged and honored to be a part of the innovative public-private partnership to help research and combat red tide. With the talented team we have working together, I know the next big breakthrough in how we manage red tide will come from right here in Florida. This research will not only help Florida's communities, but communities around the world who also deal with similar issues. Thanks to Gov. Scott's continued leadership, DEP remains committed to assisting impacted communities every day."
Noah Valenstein, Secretary of the Florida Department of Environmental Protection
"Studying any natural hazard like red tide takes a robust collaboration of experts in a variety of fields. At USF College of Marine Science, we use a combination of buoys, underwater drones and satellites to predict the conditions conducive to development of red tide, measure where it is now, and use sophisticated computer models to predict where it's going to go. We work very closely with the researchers at FWC who use our predictions to go out and sample and study the biology of Karenia brevis, and with Mote Marine Laboratory on the impact of red tide on fish, wildlife and coastal residents."
Jackie Dixon, Dean of the University of South Florida's College of Marine Science
"Scientists from Mote Marine Laboratory – an independent, nonprofit, marine research and science education institution – are working tirelessly with many partners, including FWC, DEP, the Florida Department of Health and several other organizations, to respond to the current red tide event. Our knowledge of red tide dynamics and forcing functions has increased significantly through this partnership. For the first time, a combination of leadership, science, technology and innovation has been strategically applied in a rapid response to an ongoing major red tide event. The Governor should be applauded for providing leadership and significant support to rapidly address urgent needs caused by this red tide event."
Michael. P. Crosby, President and CEO of Mote Marine Laboratory
The post Technology used to research and monitor red tide appeared first on .