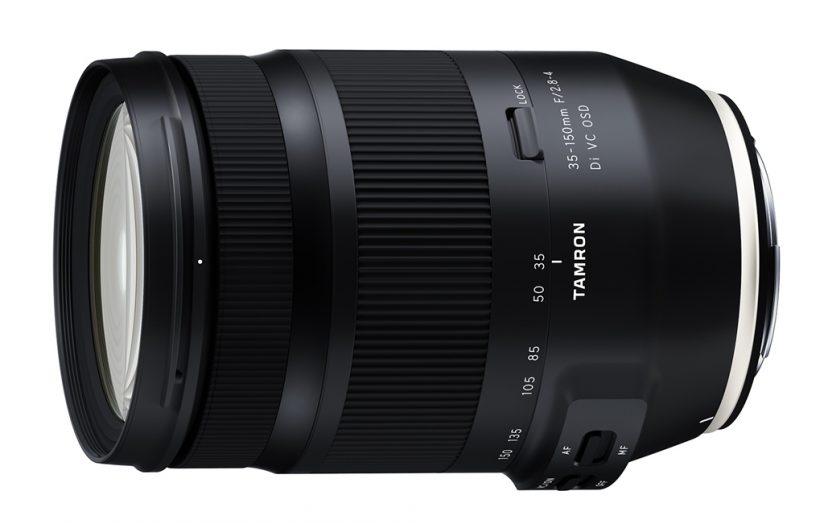 In February, Tamron announced the development of three new lenses, including the 35-150mm F/2.8-4 Di VC OSD (Model A043). Today Tamron unveiled pricing and availability for this wide-to-tele zoom for DSLRs, which will be offered in Canon and Nikon mounts. The Nikon mount will be available May 23, followed by the Canon mount on June 20. Both versions will retail for $799.
The lens features a minimum focusing distance of 17.7 inches throughout the zoom range, Tamron's OSD (Optimized Silent Drive) DC autofocus motor for quiet operation and Vibration Compensation (VC) that provides up to 5 stops of image stabilization. It's also sealed for weather resistance.
As a Tamron Di series lens, it's designed for use with full-frame DSLRs, but can also be used with APS-sensor cameras, providing a 35mm-equivalent range of approximately 52.5-225mm with them. Tamron is positioning this lens as ideal for portraiture, but its range is also useful for landscape and travel photography. For travel photographers who want to pack light, Tamron suggests this new lens along with the Tamron's 17-35mm F/2.8-4 Di OSD (Model A037) to cover everything from architectural interiors to street scenes and portraits.
Check out the Tamron 35-150mm F/2.8-4 Di VC OSD Canon Mount on B&H!
Check out the Tamron 35-150mm F/2.8-4 Di VC OSD Nikon Mount on B&H!
For additional info and tech specs, see the press release below.
###
Tamron announces the launch of fast, compact Portrait Zoom
35-150mm F/2.8-4 Di VC OSD (Model A043)
April 25, 2019, Commack, NY– Tamron announces the launch of a new zoom lens, the 35-150mm F/2.8-4 Di VC OSD (Model A043), for full-frame DSLR cameras. Photographers everywhere, especially those who enjoy photographing people, can add wider range to their creative expression with the new Model A043 that extends from 35mm to 150mm and offers a fast F/2.8 aperture at the wide-angle end while maintaining a bright F/4 at the telephoto end. The lens will be available May 23 in Nikon mount and June 20 in Canon mount at approximately $799 at authorized Tamron USA retailers.
The zoom range incorporates the 85mm focal length (often regarded as optimum for portrait shooting) and covers everything from full-body shots that include the surrounding environment to head-and-shoulders shots that stand out from a natural defocused "bokeh" background for which Tamron is renowned. The compact Model A043 is designed for fast handling and easy transport, measuring only 4.9 in long and perfectly balanced. On the technical side, three optimally placed LD (Low Dispersion) glass elements and three hybrid aspherical lenses quash various optical aberrations. Autofocus is exceptionally quiet with improved precision and speed thanks to the OSD (Optimized Silent Drive) DC motor. Furthermore, the Model A043 incorporates the Dual MPU (Micro-Processing Unit) system, which strikes the perfect balance between AF performance and effective vibration compensation. For close-focusing, the MOD (Minimum Object Distance) is 17.7 in across the entire zoom range. Providing greater flexibility when used outdoors, a Fluorine Coating and Moisture-Resistant Construction deliver extra measures of protection. The new 35-150mm portrait zoom is the most useful and most creative lens a portrait photographer can own.
PRODUCT HIGHLIGHTS
Superb optical performance meets requirements of high-resolution 50+ megapixel DSLRs
Chromatic aberration and other imperfections that can diminish and degrade resolving power are thoroughly controlled by an optical design that combines three high-performance LD (Low Dispersion) glass elements with three hybrid aspherical lens elements aligned in perfect balance. The result provides the high levels of sharpness and contrast that today's high-resolution digital cameras require. Tamron's exclusive formula is optimized for exceptional performance around the mid-zoom 85mm range because that focal length has long been regarded as the preferred choice for portrait shooting. True to its designation as a "portrait zoom," the Model A043 leverages Tamron's optical technologies across the entire zoom range from wide-angle to telephoto to assure the finest experience at any setting. Making full use of the controlled depth-of-field properties only fast-aperture lenses can provide, Tamron employed proprietary simulation technologies to maximize the soft and natural "bokeh" defocused blur it has cultivated over many years. As a result, in-focus areas are rendered sharp and crisp down to the fine details that makes the subject stand out against a gently and beautifully blurred background. This technique is highly prized by portrait photographers and is potent for virtually every other type of photography.
Outstanding performance even in strongly backlit situations
Tamron's legendary BBAR (Broad-Brand Anti-Reflection) Coating works in harmony with an optical design that suppresses internal lens reflections to significantly reduce all traces of ghosting and flare. Because portraits are often shot under backlight conditions for impact, Tamron uses these advanced technologies to preserve high image quality even when strong sources of light—including the sun—are in frame.
High-speed Dual MPU (Micro-Processing Unit) control system delivers fast and highly responsive autofocus performance plus outstanding vibration compensation
Silent autofocus driven by OSD (Optimized Silent Drive) DC motor
The OSD DC motor debuted in the 17-35mm F/2.8-4 Di OSD (Model A037) with favorable response. OSD technology reduces drive noise significantly (compared to previous DC motor-equipped lenses) while boosting autofocusing precision and speed by a wide margin. This eliminates noisy distractions during portrait shooting. Furthermore, the superior AF precision also provides more accurate tracking when locked on moving subjects.
Outstanding VC (Vibration Compensation)
Tamron's original VC system is enhanced in the A043 with an independent MPU dedicated to image stabilization without detracting from AF processing functions. Consequently, the VC (Vibration Compensation) achieves 5 stops*, according to CIPA Standards. This is highly beneficial when shooting at the telephoto end where camera movement is magnified. It's also very valuable when shooting at slow shutter speeds in dim lighting conditions.
* CIPA Standard Compliant. For Canon: EOS-5D MKIII is used. For Nikon: D810 is used.
MOD (Minimum Object Distance) of 17.7 inches across the entire zoom range
Close focusing, the A043 delivers an MOD of 17.7" at all focal lengths thereby expanding versatility and creative freedom. This allows portrait photographers to get in close to capture expressions and smaller details and allows them to adjust camera-to-subject distance with greater control. Even when shooting indoors where movement is restricted, users can make use of this feature to find the perfect shooting position and angle.
Next-generation design is consistent with brand identity and is ergonomically superb
Tamron has applied magnificent craftsmanship to a beautiful, intuitive design to produce a zoom with superior look and feel. From the outer contours of the lens, to the deftly workedLuminous Gold brand ring, the quality of this lens is second to none. Even details like the shape of the switch box and the precision and stability of the metallic mount reveal a commitment to functionality as well as design.
Moisture-Resistant Construction
Seals are located at the lens mount area and other critical locations to prevent infiltration of moisture and/or rain to provide Moisture-Resistant Construction. This feature affords an additional layer of protection when shooting outdoors under adverse weather conditions.
Fluorine Coating
The surface of the front element is coated with a protective fluorine compound that has excellent water- and oil-repellant qualities. The front surface is easier to wipe clean and is less vulnerable to the damaging effects of dirt, dust, moisture or oily fingerprints, allowing for much easier maintenance.
Compatible with TAMRON TAP-in ConsoleTM, an optional accessory
The new Model A043 is compatible with the TAMRON TAP-in Console, an optional accessory product that provides a USB connection to a personal computer for easy updating of the lens's firmware as well as customization of features including fine adjustments to the focus position of AF and VC control.
Covers a broad range of diverse scenarios when combined as a set with the 17-35mm F/2.8-4 Di OSD (Model A037) ultra-wide angle zoom
For the discerning travel photographer who wants to pack light while maintaining excellent image quality, the new 35-150mm zoom pairs perfectly with Tamron's 17-35mm F/2.8-4 Di OSD (Model A037) wide-angle zoom. The two lenses together cover 17mm to 150mm affording creative and versatile capture of landscape, street scenes, architectural details, food, street portraits and more, at a total weight of just 44.1 oz* with fast F/2.8 at the wide ends and F/4 at the tele end of each.
* Weight applies to the model with the Nikon mount.
SPECIFICATIONS
Model
: A043
Focal Length
: 35‐150mm
Maximum Aperture
: F/2.8-4
Angle of View (diagonal)
: 63°26′ – 16°25′ (for full-frame DSLR cameras)
Optical Construction
: 19 elements in 14 groups
Minimum Object Distance
: 17.7" Full zoom range
Maximum Magnification Ratio
: 1:3.7 (f=150mm)
Filter Size
: Ø77mm
Maximum Diameter
: Ø84mm
Length*
: for Canon 5"
: for Nikon 4.9"
Weight
: for Canon 28.1 oz
: for Nikon 27.9 oz
Aperture Blades
: 9 (circular diaphragm)**
Minimum Aperture
: F/16-22
Image Stabilization Performance
: 5 stops (CIPA Standards Compliant)

For Canon: EOS-5D MKIII is used / For Nikon: D810 is used

Standard Accessories
: Flower-shaped hood, Lens caps
Compatible Mounts
: Canon EF mount, Nikon F mount
Specifications, appearance, functionality, etc. are subject to change without prior notice.
* Length is the distance from the front tip of the lens to the lens mount face.
** The circular diaphragm stays almost perfectly circular up to two stops down from maximum aperture.
The post Tamron 35-150mm F/2.8-4 For DSLRs Gets Price And Release Date appeared first on Outdoor Photographer.