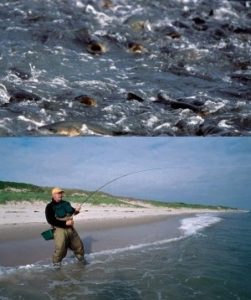 450 striped bass anglers, including 47 guides from North Carolina to Maine, responding to the 16th annual fishing survey from the national striped bass conservation organization Stripers Forever, were mostly disappointed with the fishing they experienced during 2018.  Despite annual increases in our membership to nearly 4,000, the number of anglers answering the survey decreased in 2017 and again in 2018, a further indication of declining interest due to the poor fishing.
72% of respondents said the number of stripers they catch per hour has declined, while 71% said the size of the stripers they caught was smaller or much smaller than previous years.
The survey results have pointed to declining fish sizes in the striper catch for years.  This was borne out in 2018 by the fact that the MA commercial striped bass fishery was unable to catch its full quota of large striped bass even after the state's Division of Marine Fisheries added open days to the season in an effort to help meet the quota.
A major striped bass stock reassessment of the wild Atlantic striped bass population has prompted the Atlantic States Marine Fisheries Commission (ASMFC) that manages striped bass, to admit that the spawning stock of large fish has shrunk sufficiently to require a warning that the stock is being overfished, and that overfishing is occurring.
Stripers Forever blames the ASMFC management plan that focuses too much of the fishing effort on large, older fish that are vital to the breeding population.  Over the last 10 years a reduced striped bass breeding population has resulted in highly variable production, including two good year classes, two average and six below average, including a record low spawn in 2016. The average striped bass year class sizes in Chesapeake Bay during the decade of the 1990s were roughly twice as large as those that have occurred in the last 15 years.
Stripers Forever believes that a slot limit that allows a harvest only within a restrictive upper and lower size range along with a complete end to all commercial fishing for wild striped bass is the best management solution for the fishery.
79% of Stripers Forever members support the sale of a game fish stamp with the proceeds to be used for buying out the remaining commercial fishing activities.
A complete recap of all the survey information is available at this LINK on the Stripers Forever website.
For more additional information e-mail [email protected].
The post Stripers Forever Press Release 2018 Angling Season appeared first on OutDoors Unlimited Media and Magazine.