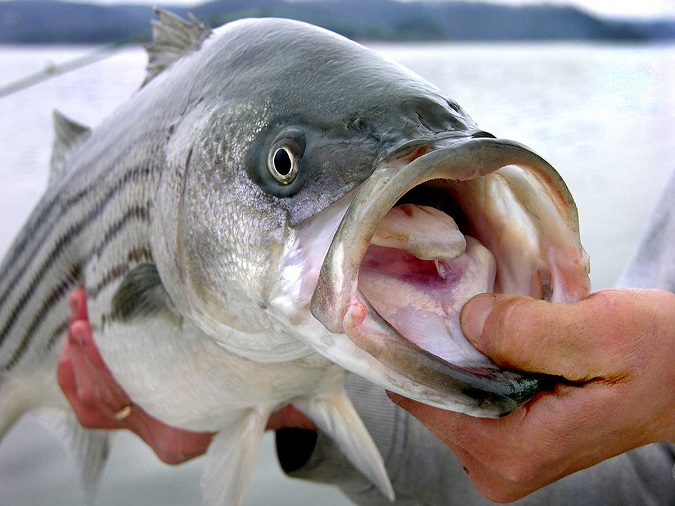 Let's face it, while some fish species in the Commonwealth do a pretty good job of procreating (e.g., the ubiquitous panfish), others of our fishy friends can use some help in keeping their numbers up—or even being introduced to new waters.
The goal, of course, is better fishing for you, the intrepid angler.
It's also the case that providing better fishing in the Old Dominion through a breeding and stocking program takes some serious time, effort and science on the part of Virginia Department of Game & Inland Fisheries (DGIF) biologists, aquaculturists and hatchery personnel.
At this time of year, DGIF personnel are "hatching" (what else?!) plans for collecting near-spawning striped bass (aka stripers) from local rivers for the purposes of bringing male and female striped bass to Virginia's two striper hatcheries.
The King and Queen Hatchery near Stevensville reproduces the Chesapeake (or marine) strain of stripers. These fish are harvested in brackish water from such Chesapeake drainage rivers as the Pamunkey, Mattaponi, James and Rappahannock, Chris Dahlem, manager at the hatchery, told me.
The Vic Thomas Hatchery near Brookneal, run by Mike Gafford, annually spawns and hatches the Roanoke (or landlocked) strain of  striped bass, which are collected from Roanoke drainage freshwater systems such as the Roanoke, Staunton and Dan Rivers.
After catching, examining and selecting the striper brood stock, the fish are allowed to spawn naturally at the hatcheries. The eggs are then incubated before being released into culture ponds. When the fingerlings reach about 1-2 inches in length, they are collected, transported and stocked around the state.

Every year, DGIF stocks more than one million Roanoke and Chesapeake striped bass juveniles into as many as 20 water systems through 30 separate stockings in the Old Dominion.
About 70 percent of the stripers that DGIF stocks are Roanoke, while 30 percent are Chesapeake—and only freshwater impoundments such as lakes and reservoirs are stocked. No stripers are returned to tidal Chesapeake rivers.
This Chesapeake-Roanoke stocking mix, like any of the stocking numbers and stocked impoundments may change from year to year, of course, depending on circumstances and recommendation of fisheries biologists.
Smith Mountain Lake, a 20,600-acre impoundment, near Roanoke, is considered one of the finest striped fisheries in the state–and one of the top freshwater striped bass fisheries in the country–due to its clear water and plentiful forage.
According to Dan Wilson, a DGIF fisheries biologist, Smith Mountain Lake offers some of the most challenging fishing for stripers, too, due to the changing techniques required to land one across the seasons.
For instance, in the spring, you may be able to find these fish in the shallows. But as the water warms into the summer months, you'll need to go deep for them as the stripers head for cooler, more comfortable waters.
Virginia's freshwater stripers aren't really a warm-water species like largemouth bass nor really a cold-water species like trout, but more of a temperate or "cool" water fish, Wilson told me.
Beyond Smith Mountain, Buggs Island, Anna, Claytor, Gaston, Leesville and Western Branch Lakes and the Staunton and Roanoke Rivers are all fine fisheries for one of Virginia's biggest game fish—keeping in mind our musky and catfish anglers.
Stripers weighing 10-15 pounds are common in Virginia, with fish weighing 30-40 pounds landed each season. The state record for striped bass is in Virginia is 54 pounds. Land a 20-pounder and you've caught a Virginia citation fish.
The fact is you don't have to go to the Chesapeake Bay or Virginia's Atlantic coast to catch this incredible game fish. Thanks to DGIF's hatcheries, all you may have to do is hop in your vehicle and drive to a local lake to land a trophy.
Related articles:
The post Striper Spawnin' and Stockin' appeared first on OutDoors Unlimited Media and Magazine.