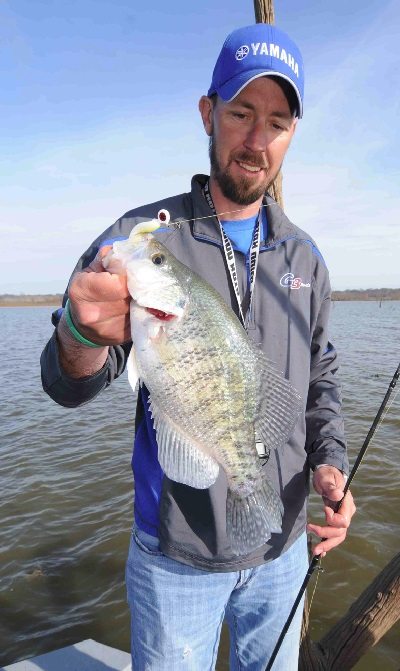 Fall is a time of transition, movements and turnover. It's important to know the key success tactics to catch these crappie on the move. CrappieNow Magazine September issue is filled with tips and tactics.
The bane of bass anglers in the fall can also lead to cases of anxiety for crappie anglers when cooler weather arrives.
Bass anglers frequently use the fall turnover (see sidebar) as an excuse for their tough day on the water and crappie anglers can do the same because the turnover has the same numbing effect on crappie as it does on bass.  However savvy crappie anglers know fish will still bite when a lake is turning over.   "The turnover is just a hurdle but every hurdle can be overcome," Truman Lake guide Jeff Faulkenberry says.
The key to catching crappie during the turnover is finding the most active fish.  Faulkenberry heads for the backs of creeks to find crappie then on a lowland reservoir with off-color water such as Truman.  "When the lake is turning over in the fall generally the fish back in those creeks are going to start biting," he says.  "I feel like the water with the highest dissolved oxygen content will hold the most active fish. So I am going to stay away from anywhere I see a good algae bloom and stuff like that and I am going to get back in those creeks and try to catch those fish shallow."
Faulkenberry targets large hardwood stumps at depths of 2 to 7 feet where crappie hold tight to the cover. He believes the dark stumps absorb lots of sunlight which raises the dissolved oxygen content near the stump and draws the fish closer to the cover.  He also looks for crappie along the tops of stump-laden ledges where the bottoms drop from 7 feet to 12 feet.
The Missouri guide also recommends searching for active crappie suspended higher in the water column near standing timber during the turnover.  He suggests the most active fish will probably be suspended 3 to 6 feet deep in the trees 15 to 20 feet deep.
"Swinging big jigs" in the shallows is Faulkenberry's favorite tactic for turnover crappie. He opts for a 2 1/2- or 3-inch tube bait with a 1/8-ounce jighead or a 1/8-ounce Mr. Crappie Krappie Kicker Jig in white or chartreuse to pitch to the stumps.
After pitching his jig to the target, Faulkenberry gently jigs the lure as it swings back towards him. "A lot of times they are going to hit it on the swing," Faulkenberry says. "I am barely twitching that thing sometimes but I am always twitching it. My jig is moving all the time because I am looking for that reaction bite. If the fish is there it is going to hit that jig."  He believes this tactic allows him to cover water quickly and put his jig in front of more active fish than deadsticking a lure in the cover. 
Lake of the Ozarks guide Terry Blankenship also heads for the shallows when the fall turnover occurs on his home lake.  "You can catch some big fish during that turnover too," he says. "The bigger fish seem to be more adapted to that water change and adjust better."
When his lake turns over, Blankenship also heads to the backs of coves and creeks where shad have migrated to the cooler water.   "As the baitfish go the game fish go after them," he says.
Blankenship looks for any laydowns or submerged logs near the bank where crappie hold close to the cover. He also targets shallow docks.  "A lot of times you can find those fish tight to the docks right up underneath them," he says.
When keying on the shallow wood, Blankenship prefers casting to the cover with a jig-and-bobber rig. He favors an egg-shaped float with about a 3/4-inch diameter.  "I try not to get one too big because I don't want the fish to have to fight that bobber," he said. The guide also likes that size bobber because it is easier to cast than smaller floats.  
Blankenship's favorite lures for bobber fishing are Bobby Garland Baby Shads, Baby Shad Swim'Rs and 3-inch Slab Slay'Rs in blue ice or bright colors (white/chartreuse, pink/chartreuse, red/chartreuse or yellow).  He attaches his soft plastics to a 1/16-ounce jighead most of the time but will downscale to a 1/32-oucne jighead for fishing in ultra-shallow water.
The Missouri guide suggests using little or no movement for the jig-and-bobber presentation.  "It is typical to move it a bit if you have a feeling fish are in that cover sometimes it doesn't hurt to let it sit for a little bit because that fish has the bait in its strike zone but it is just not that active. So the lure is just sitting there and a lot of times the fish just can't stand it so it will go ahead and hit the jig."
When targeting shallow docks Blankenship prefers shooting his lures to catch crappie hanging under the dock's floatation.  His standard dock shooting setup for turnover crappie is a 3-inch Slab Slay'R on a 1/16-ounce jighead.  He favors the Slab Slay'R because it skips well under the dock and is a larger bait that draws strikes from bigger fish. 
While shooting a dock Blankenship immediately starts retrieving his lure after it stops skipping because he knows crappie will be closer to the floatation than the bottom.  He usually retrieves his jig anywhere from near the surface to about 6 feet deep.
Former Crappie Masters National Champion Kyle Schoenherr heads in the opposite direction of Faulkenberry and Blankenship when the fall turnover occurs on the clear waters of Kincaid Lake in Illinois. 
Schoenherr can watch his electronics and see the turnover occurring on his home lake.  "The water temperature on top will start cooling and you will see the thermocline change from a defined line to more of a hazy, wavy kind of a deal," he says.  Once he sees the thermocline dissipating, Schoenherr knows the turnover has begun and crappie will move from the mid-depth levels to their winter spots 25 to 30 feet deep.  
The Illinois guide concentrates on main lake structure and looks for any cover he can find along the bottom. A favorite hangout for turnover crappie at Kincaid is an isolated stump about 1 1/2 foot in diameter and about 2 feet tall sitting in about 30 feet of water.   "Sometimes it may hold a dozen fish on it," Schoenherr says. 
Vertical jigging a drop shot rig with a minnow or slow trolling minnow rigs produces best for Schoenherr when turnover crappie move to the deep stumps.  He relies on a 3/8-ounce weight for both his drop shot and slow trolling rigs.
The fall turnover can be a frustrating time to fish for crappie, but it usually only lasts for a week or two and then the fishing improves dramatically because the water temperature and dissolved oxygen levels are consistent at a wide range of depths.
For more on Lake Turnover, other fall articles and tips, look at CrappieNow September issue.
Save
The post September Crappie NOW Is Out appeared first on ODU Magazine-North America's #1 Digital Fishing Magazine.