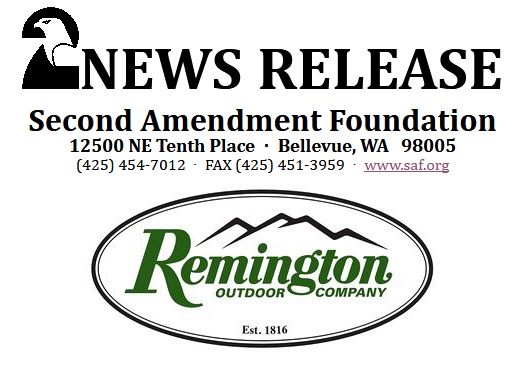 The Second Amendment Foundation today criticized the 4-3 split decision by the Connecticut state Supreme Court that reinstated a lawsuit against Remington Arms over how it marketed the Bushmaster rifle used in the tragic 2012 Sandy Hook school shooting.
"This ruling strains logic, if not common sense," said SAF founder and Executive Vice President Alan M. Gottlieb. "The court dismissed the bulk of the lawsuit's allegations, but appears to have grasped at this single straw by deciding that the advertising is somehow at fault for what Adam Lanza did that day in December more than six years ago.
"This is like suing Ford or General Motors because a car they sold was stolen and used to run over a pedestrian all because the car manufacturers advertised that their car had better acceleration and performance than other vehicles," he added.
Lanza, 20, first killed his mother and took her legally-purchased Bushmaster rifle to the school, where he murdered 20 youngsters and six adults. The lawsuit contends that Remington's advertising was designed to glorify the Bushmaster rifle and enhance its appeal to younger consumers.
Justice Richard Palmer, writing for the majority, said that the "regulation of advertising that threatens the public's health, safety, and morals has long been considered a core exercise of the state's police powers."
"That is absurd in this case," Gottlieb observed. "Did the advertising even remotely suggest that the Bushmaster is best for murdering people? It appears to me like the court was looking for a way to squeak around the provisions of the Protection of Lawful Commerce in Arms Act that Congress passed in 2005. After all, the court dismissed most of the allegations, but now has decided that advertising might be at fault. That's a stretch of credulity worthy of surgical elastic."
"There is no evidence the killer was driven by any advertising whatsoever," he said. "This is an affront to the First Amendment as well as the Second. Even hinting that the killer was motivated in some way by an advertising message is so far out in the weeds that it may take a map for the court to find its way back."
The Second Amendment Foundation (www.saf.org) is the nation's oldest and largest tax-exempt education, research, publishing and legal action group focusing on the Constitutional right and heritage to privately own and possess firearms.  Founded in 1974, The Foundation has grown to more than 650,000 members and supporters and conducts many programs designed to better inform the public about the consequences of gun control.
Related articles:
SAF FILES FEDERAL LAWSUIT CHALLENGING SECOND AMENDMENT ENFORCEMENT PRACTICES
SAF, PARTNERS TO ASK PRELIMINARY INJUNCTION IN 1ST AMENDMENT N.J. CASE
SAF JOINS 1st AMENDMENT CHALLENGE TO NEW JERSEY 3-D CENSORSHIP LAW
The post SAF SAYS CT. GUN LAWSUIT LIKE 'PROSECUTING CAR MAKERS FOR CRIMES OF CAR THIEVES' appeared first on OutDoors Unlimited Media and Magazine.