Facebook Screenshot:Catchin' Deers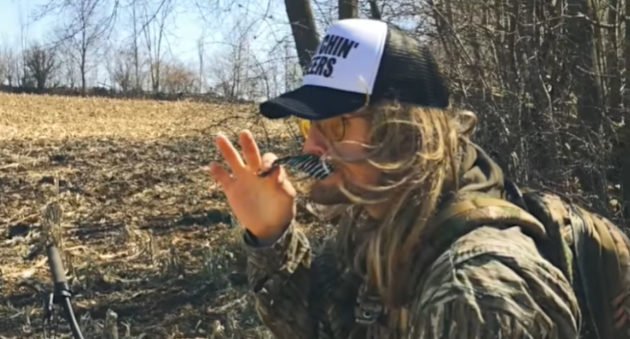 "I'm hunting the roost, I've got to be at work by 8!"
Rut Daniels is at it again. The last time we caught up with him, he was showing everyone how to hilariously brush in a blind for spring turkey season. The former Olympic legend has to get his bird early because he works at the archery shop and they open first thing at 8 a.m.!
Once again, Rut proves he is the king of the one-liners here. We are sure you'll get a kick out of his hunting strategy for the day.
See his latest hunting misadventure in the video posted to the Catchin' Deers Facebook page below.
"If he's still standing pop em again, pop till he flops".

Posted by Catchin' Deers on Friday, April 24, 2020
"I always say, know the bird you're hunting. There's a tom, a jake and a hen with the chin hair. All three are mounters and they all taste the same! Can't eat the beard am I right?"
If you have never seen Rut Daniels before, he is the alter-ego of Bud Fisher, the brother of retired NHL star Mike Fisher. The two brothers came up with the Rut persona to promote their outdoor clothing line "Catchin' Deers." The character has proven to be quite popular and relatable to many hunters.
We are not too surprised this character has taken off so well. After all, if you think long and hard, you probably already know another hunter exactly like Rut Daniels who talks a mile a minute and is not afraid to dole out hunting advice like this.
Of course, all of us can relate to just not having enough time to go hunting too. We are not sure if Rut's "hunt the roost" strategy worked out, but we got a good laugh out of it. Keep the laughs coming guys, we need them more than ever these days!
For more outdoor content from Travis Smola, be sure to follow him on Twitter and check out his YouTube channel.
NEXT: RUT DANIELS SHOWS YOU HOW TO PROPERLY BRUSH IN A BLIND
WATCH
The post Rut Daniels Does Some Turkey Scouting appeared first on Wide Open Spaces.