By Todd Corayer
Special to Outdoor Enthusiast Lifestyle Magazine
For months now, social media has been ablaze with posts about local fishermen getting their kayaks ready for a new fishing season. Despite winter being kind of a puffball affair and this Covid-19 affair making us rush out to buy toiler paper, which is absurd, unless you don't have a stash, fishermen and women are anxious to get back on the water; they're posting pictures of new seats, more storage, extra rod holders, and in some cases, brand new kayaks. One prolific promoter of warm water and all things kayak bass fishing is RJ Alves, otherwise known as RJ Unleashed, and this year he is proposing the best season yet of local, friendly, competitive freshwater fishing in The Ocean State and two neighboring states. If you know anything about RI Kayak Bassin'or RJ himself, hold on, we're about to enter a whole different level of fishing for fun, sport and occasionally a few dollars.
Before we get to the new tournament dates, RJ wanted everyone to know that from April first through the thirty-first of August, RIKB is hosting a Royal Waters tourney to coincide with the 2020 schedule. This new element adds a layer of freedom for anglers in that they can fish from any legally accessible Rhode Island water body. If anglers are fishing at night,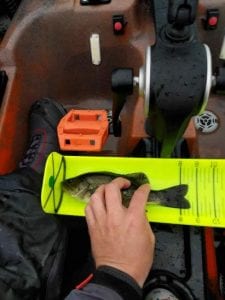 which is pure magic in a kayak under a blanket of summer stars, pictures cannot be altered in any way, even to lighten them to better see your catch. Which leads us to a bigger point. RIKB and similar regional and national groups have rules, rules which try to keep everyone honest but also protect fish. With the rare exception of someone who appreciates the bland and muddy flavor of a two pound largemouth bass, fish are placed on a special tournament board with a marker identifying the specific tourney, photographed in a very efficient manner, then returned to the water. Striper fishermen are grappling with how to reduce mortality even in returned fish but meanwhile, these fishermen and women are practicing true catch, photo and release.
So, the Royal Waters event runs all summer with the top three anglers qualifying for the RIKB Bonus Bucks Classic. The regular season will take bass fishermen and women through eight stops in RI, CT. and MA. RJ has worked deals, because he is RJ Unleashed after all, to secure parking near URI so you they can fish Thirty and Hundred Acre Ponds and he's negotiated discount parking to access Johnson's Pond.
Lest we forget, that's where Brandon Migliore caught that 11.3 pound largemouth back in 2016 so you know there are a few more beasts roaming around there. And RJ and Ryan Bessell have a very cool three rivers event planned where competitors can choose one of three pieces of moving water to target largemouths. These tourney stops are pretty non-profit in that the winners take the kitty and they move on.
"This is big," said RJ. "By new rule for RI Kayak Bassin', anytime we have 20 entries for one tournament, on-line entries excluded, 10% of the field gets to qualify for the Kayak Bass Fishing National Championship, the biggest kayak fishing tournament in the country!" he said.  RJ is now the Vice President and Tournament Director of the new B.A.S.S. Nation Kayak Division, Rhode Island Chapter and he's working on setting a qualifying event for a National Championship Tournament this year for the 2021 National Championships. That's pretty amazing, but then again, when RJ Alves sets his mind to something, especially a something that involves freshwater fishing, he goes all in.
Just for perspective, we've been fortunate to write about a few past events with RIKB and the best part, maybe better than the money shots with big chunky bass and happy fisherman tucking the purse into his wallet, is the group shot. You don't need to say "Smile!" because they already are. If you want to fish with RI Kayak Bassin', read through the rules, consider the logistics of fishing the whole series, then contact RJ or Ryan Bessel, who does a yeoman's amount of work behind the scenes, through their Facebook page.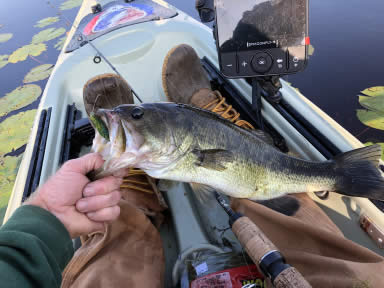 Here's the lineup for 2020:
April 25- Stump Pond, Westborough, MA.
May 9 – Johnsons Pond, Johnston RI
May 30-Stafford Pond, Tiverton RI
June 13-30 and 100 Acre Ponds, South Kingston
June 20-Mansfield Hollow, Willimantic, CT.
July 18-Tiogue Lake, Coventry RI
August 8-Indian Lake, S. Kingstown
August 15-Three River Revival, Clear River-Burrillville, Hope Landing-Pawtuxet River, Alton Pond-Wood River
If fishing with good people in some beautiful southern New England waters and maybe taking home a few dollars with bragging rights sounds interesting, you could not choose a better group. Period.
The post RI Kayak Bassin' is ready for a very big year appeared first on FishWrapWriter.com