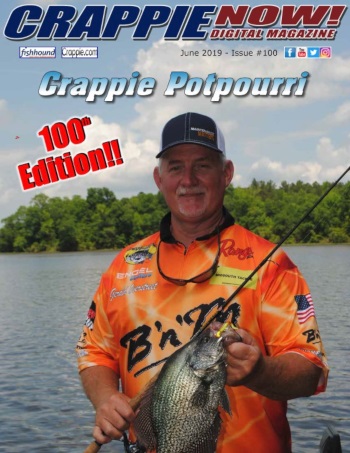 There is an old saying that "variety is the spice of life." This month's issue of CrappieNow offers up some variety with stories of crappie fishing from the bank, catching slabs in Pennsylvania stump fields, one poling through heavy cover, and more. 
Opening Cast – The 2019 winter, spring and now early summer period have been very interesting weather wise. One day it feels like winter, the next summer, and once in a while like…
No Boat No Problem – Fishing from the bank is very productive for most species of fish. If you want to target crappie from the bank, use these techniques for the best…
Crappie Basics #189 Warming Weather – Tim Eberle – By the time June rolls around the weather is beginning to warm and the crappies are moving deeper and searching for a comfortable ambush spot for their next meal. Anglers…
Slip bobbers around stumps – A simple but effective method to pull crappie from stump beds. If Lake Cowanesque in north-central Pennsylvania were a face and not a body of water,…
Crappie News – https://www.odumagazine.com/topics/fishing_freshwater/crappie-fishing/
The post Crappie NOW – FREE Digital Magazine – June 2019 appeared first on OutDoors Unlimited Media and Magazine.