Facebook: CB Outdoors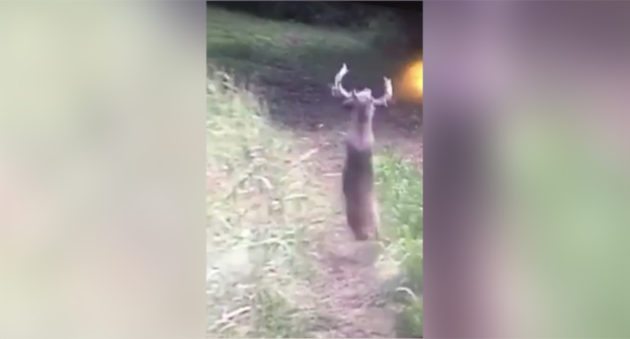 This monster buck explodes off its feet and flips onto its back in one of the most unique harvest videos you'll ever see.
If you've watched outdoor television, YouTube hunting videos or hunted a lot on your own, chances are you've seen tons of whitetail deer expire.
However, this buck might've done one of the craziest things you'll ever see. We all hope when we make a bow shot on a deer, we can see it fall from the stand. This monster buck does that and a little bit more.
With his last breath, the buck skyrockets up like a spaceship and flips directly on its back. You couldn't have placed it better on its rack if you tried.
One wild video! And one monster buck!

由 CB Outdoors 发布于 2017年7月7日周五
This deer is an absolute giant. Videos always have more wow value when they include a deer of that size. This is a backflip gone bad and the buck is down for the count.
Luckily, the camera was rolling, so now his hunting buddies won't think he's lying.
NEXT: THIS IS WHY YOU DON'T STICK YOUR HEAD INTO A BOW AT FULL DRAW
WATCH
The post Remember the Monster Buck That Attempted a Backflip? appeared first on Wide Open Spaces.