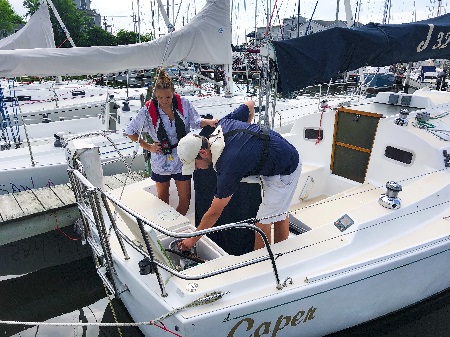 If you want to heat your boat, cook aboard, or perhaps, run your refrigerator when you are away from shore power, propane is a common fuel source. But what are the most important safety concerns that boaters should know about this heavier-than-air gas? The new online course "Propane Systems on Your Boat" gives boaters a thorough understanding of the installation, use, setup, maintenance and inspection of this system at BoatUS.org/Courses. A printable recreational boat inspection checklist and propane-safety handout are included.
"Propane has some qualities that make it great for use aboard recreational boats," said BoatUS Foundation Director of Education Amanda Suttles Pérez. "Other qualities, however, require boaters to know how to regularly inspect and maintain their LP systems. We'll show you how." "Propane Systems on Your Boat" also explains the layout and functions of a one- or two-tank system and shows how to safely respond to a propane leak. Short quizzes help boaters remember key points.
The course is offered by the BoatUS Foundation for Boating Safety and Clean Water and America's Boating Club (United States Power Squadrons). Most course takers will complete the course in about two hours. All online courses can be completed at your own pace – started, stopped, and picked up again at any time, and they may be taken on a smartphone, tablet, laptop or desktop computer.
This course normally costs $30, but through Labor Day, it can be taken for an introductory price of $19.95. Simply use the coupon code "propane" when registering. For more information on all online courses offered by the Foundation and its partners, go to BoatUS.org/Courses.
The post 'Propane Systems on Your Boat' appeared first on .