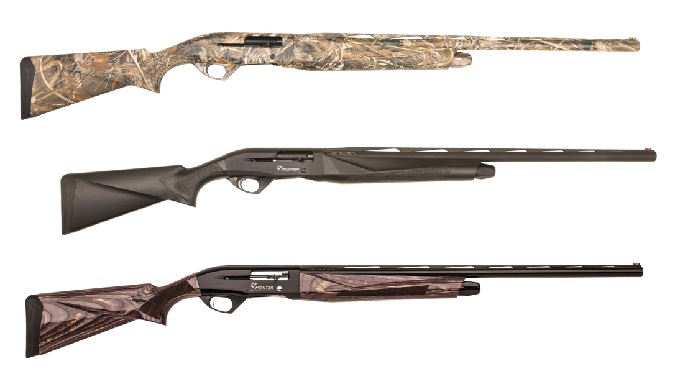 One of the most versatile shotgun lines available this year for dealers and sportsmen is the POINTER Phenoma semi-auto shotguns. The new POINTER Phenoma line comes in a variety of gauges, camo, Cerakote colors, styles and various sizes for young and old. Making it suitable for everything from bird hunting to clay crushing at the range.
The POINTER Phenoma semi-auto line comes in a 12ga, 20ga, 28ga, and.410 , something for every shotgunners environment. For those Turkey hunters looking to take advantage of the new .410 Federal TSS turkey ammo craze that boasts the ability to crush gobblers with a .410 load at 60 yds, we have the perfect .410 semi- auto for you at reasonable prices.
The POINTER Phenoma is also available in an assortment of styles. In the full dipped versions it's available in Realtree Max 5, Mossy Oak bottomland, and a favorite amongst turkey hunters the Mossy Oak Obsession pattern. For those who prefer to keep it simple there's a black synthetic option as well as a classic Turkish Walnut with a Cerakote receiver accent in Gray or Bronze.
New and only available in 12 gauge is the Phenoma Camo – Cerakote laser etched series which featuring a camo stock and forend, a Cerakote receiver and barrel with laser etching accents on the receiver to match the camo pattern! Available in Realtree Max 5 and burnt bronze Cerakote or Realtree Original and midnight bronze Cerakote.
The POINTER Phenoma comes standard with five chokes in the box, along with fiber optic front sights, gas- operated cycling system, and a single –round magazine cut off, Duratouch finish and vent rib, All of the POINTER Phenoma 2019 models will now be compatible with Beretta/Benelli Mobil Style chok
For more information check out the online catalog or request a free copy today.
Elevating the Shooting Experience
Additional information is also available at LegacySports.com.
For the latest news from Legacy Sports International, Inc., Instagram (instagram.com/legacysportsint), Facebook (facebook.com/LegacySportsInternational), and YouTube (youtube.com/user/LegacySportsIntl).
Related articles:
The post Pointer Phenoma Semi- Automatic Shotgun appeared first on OutDoors Unlimited Media and Magazine.