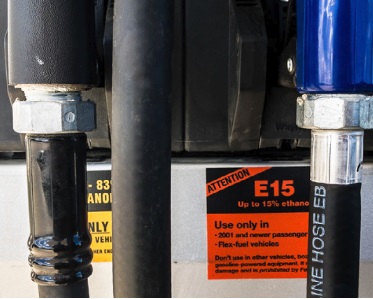 Yesterday, Congresswoman Lois Frankel (D-FL-21) and Congressman Austin Scott (R-GA-08), members of the Congressional Boating Caucus, reintroduced bipartisan legislation to more clearly define and label E15 ethanol blended gasoline at pumps. The legislation, known as the Consumer Protection and Fuel Transparency Act, would better protect consumers from misfuelling with E15 – a major NMMA advocacy priority that the association helped spearhead.
"With the EPA working to authorize year-round sales of E15 ahead of the 2019 summer season, the Consumer Protection and Fuel Transparency Act is needed now more than ever," said NMMA president, Thom Dammrich. "Representative Frankel and Representative Scott have been tireless advocates in the effort to protect countless American consumers and 141 million recreational boaters from the dangers of misfuelling, and we thank them for reintroducing this commonsense legislation. NMMA looks forward to working with both leaders to get this bill across the finish line and encourages all Members of Congress to support this critical measure."
"As we are presented with more choices at the gas pump, it is imperative that American consumers know exactly what kind of fuel they are putting into their engines," said Congressman Scott. "Gas pumps today are riddled with confusing labels and fail to adequately warn consumers of the dangers of fueling small engine equipment with E15. For this reason, with the support of Congresswoman Frankel, I introduced the Consumer Protection and Fuel Transparency Act of 2018 to ensure that E15 is more clearly labelled and consumers are made better aware of the damages misfueling can cause to their vehicles, power equipment and boats. By making fuel pump labels easier to decipher and coordinating public education programs at multiple levels, this legislation can save consumers time and energy at the pumps and avoid headaches and costs down the road."
"When families set out for a fun day on America's waterways, we want them to be safe. Our bipartisan bill helps boaters know what kind of fuel will keep their motors running," said Rep. Frankel.
The Consumer Protection and Fuel Transparency Act of 2019 would require more detailed labeling of gas pumps that dispense E15 fuel, or fuel with a 15% ethanol, 85% gasoline blend. E15 fuel has been determined to not be suitable for small engines in outdoor equipment and non-road products as E15 can cause corrosion, reduced fuel storage, and less engine lubrication resulting in engines to run hotter. Examples of impacted equipment include items such as lawn mowers, weed eaters, generators, motorcycles, all-terrain vehicle (ATVs), and boats, among others. E15 can also cause issues for vehicles, especially those manufactured before 2001.
For more information, please contact NMMA senior vice president of government relations and legal affairs, Nicole Vasilaros at nvasilaros@nmma.org.
Related articles:
The post NMMA Celebrates Reintroduction of E15 Consumer Protection Bill appeared first on OutDoors Unlimited Media and Magazine.