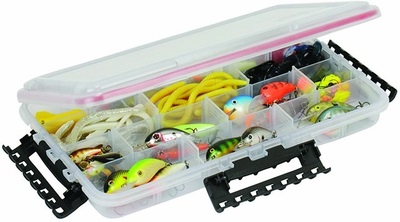 More than 65 years of industry-leading design and innovation has kept Plano at the forefront of tackle storage and management solutions. Catering to anglers of all skill levels has lead to products that are constantly changing and evolving to benefit an angler's needs.
Original Stowaways gave angler's versatile tackle storage and management options, making them an industry standard. That same industry standard is now available with more thought and added protection.
Plano's patented Dri-Loc O-ring and three tight sealing cam-action latches, work together to keep your favorite bait and tackle dry and corrosion free. The Waterproof Stowaways are the toughest, most rugged tackle boxes available.
Made in America, the Waterproof Stowaways come in six sizes. Each box has its own layout with adjustable compartments, allowing anglers to create stowaways that are custom tailored to an angler's needs. The smallest of the Waterproof Stowaway options offers a single compartment that is perfect for cell phones keys and other small valuables.
Product Features:
Model 3440 offers a single compartment and is perfect for phones and other small valuables.

Model 3540 features 3-17 adjustable compartments.

Model 3640 features 5-18 adjustable compartments.

Model 3740 includes extra long bulk storage and features 4-23 adjustable compartments.

Model 3741 is great for large items and features 1-3 adjustable compartments.

Model 3743 has 4-15 adjustable compartments. Great for large crankbaits.
For more information, please visit: www.planomolding.com
Related articles
The post Plano Waterproof Stowaway Tackle Solutions appeared first on OutDoors Unlimited Media and Magazine.