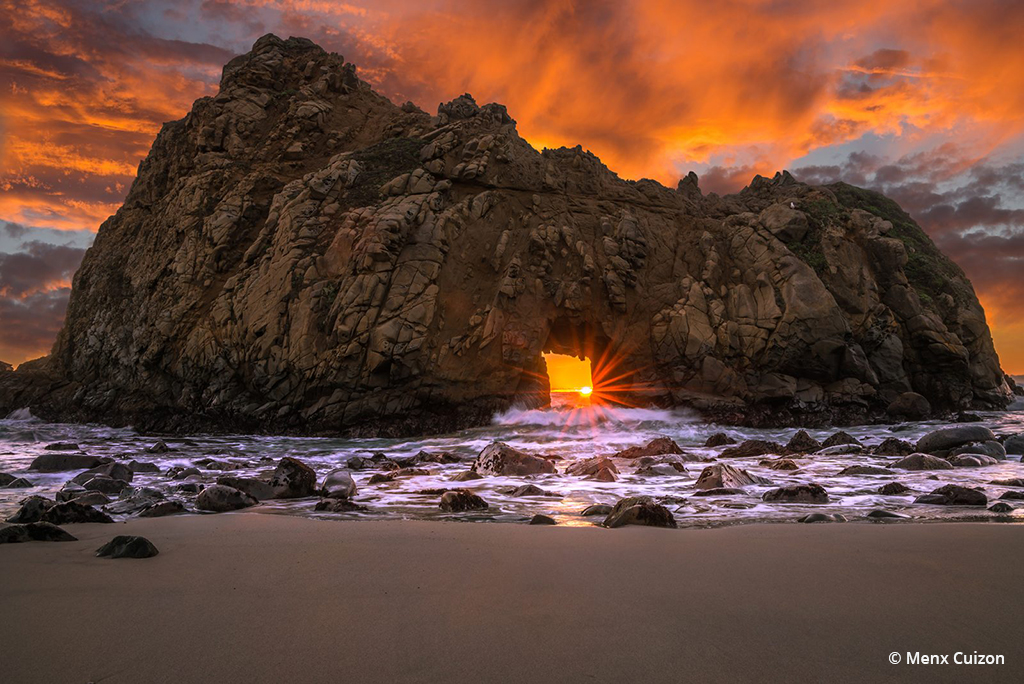 Congratulations to Menx Cuizon for winning the Photographic Portals assignment with the image "Hole of Fame."
"Two of my friends and I went to Pfeiffer Beach a day before New Year's Eve," says Cuizon. "We have planned to visit this place a month prior to experience this phenomenon.
"The location is a little tricky to find and I don't recall any information signs placed along the highway to alert any visitor. Parking space is also very limited. We parked off the road by the entrance and hiked over a mile down to the beach. There were several visitors and photographers in front of the rock formation when we got there (about 2 p.m.), and luckily, I was able to squeeze in between them in the middle where I wanted to be— to photograph the sun behind the hole.
"As the sun slowly descended near the horizon, the sunbeam coming through the hole became more apparent and beautiful. Then I could hear the camera shutters clicking nonstop as everybody got excited to photograph the light show. I was able to take different compositions, including positioning the sun on the right lower corner for a sunburst effect. The light was breathtaking. The experience was truly amazing!"
Nikon D800, Nikon 24-70mm, shutter remote release. Exposure: 0.4 sec., f/22, ISO 100.
See more of Menx Cuizon's photography at menxcuizonphotography.com and on Instagram.
The post Photographic Portals Assignment Winner Menx Cuizon appeared first on Outdoor Photographer.