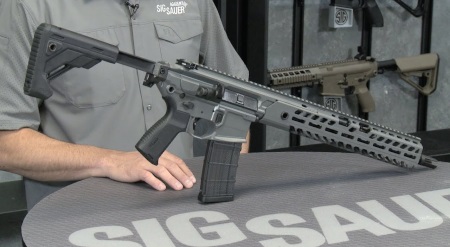 SIG SAUER, Inc. is pleased to announce the Orlando Police Department has adopted the SIG Virtus Rifle (https://www.sigsauer.com/store/sig-mcx-virtus-patrol.html) as part of their standard issue equipment for the departments uniformed officers, detectives, watch commanders, and sergeants. The Orlando Police Department is comprised of over 700 sworn officers protecting over 275,000 citizens in the City of Orlando.
Tom Jankiewicz, Executive Vice President, Law Enforcement Sales, SIG SAUER, Inc. began, "SIG has a strong partnership with the Orlando Police Department that began with their adoption of the SIG P226 and has now extended to the SIG Virtus rifle. The Virtus is a significant upgrade to their existing platform, bringing the latest in rifle technology that will enhance their capabilities, improve accuracy, and allow them to become more effective and expeditious in their response."
The SIG Virtus is a modular rifle engineered for the demands of special operations forces. The rifle features a free-float M-LOK
handguard, ambidextrous AR-style controls, a telescoping or folding stock, and can be easily suppressed.
"We are honored that the Orlando Police Department has entrusted SIG SAUER equipment for the men and women of the Orlando Police Department, and we look forward to continuing our relationship with the department and supporting their mission," concluded Jankiewicz.
Related Articles:
The post Orlando Police Department Selects SIG Virtus Rifles appeared first on OutDoors Unlimited Media and Magazine.