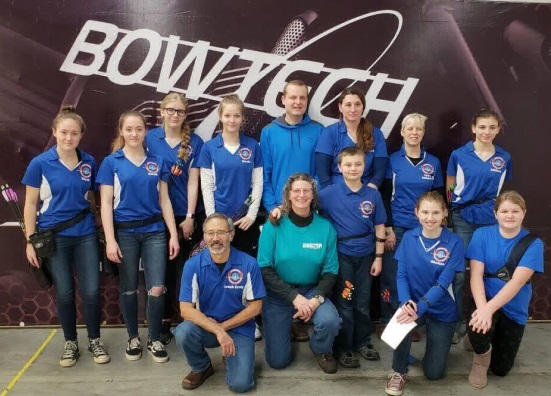 Oregon Scholastic 3-D Archery hosted their State Indoor Tournament at BowTech in Eugene, Oregon. There was a large crowd on hand with approximately 32 archers from 4 different S3DA clubs. Oregon is one of the western states that is looking to explode with S3DA archers as the Northwestern Outreach Coordinator, JR Lorimor, S3DA State Coordinator, Stephanie Rustad, and the Oregon Department of Fish and Wildlife work to get students more involved in the program.
Stephanie Rustad, S3DA Oregon State Coordinator, stated, "I want to thank all of those who participated in the S3DA Indoor Tournament and a special thank you to those who volunteered to help make sure the event was a success. We have a great group of kids and parents who ran into some difficulties about arrow diameter and they quickly worked together with other archers to make sure everyone in attendance was able to participate and be eligible for awards. For many, this was a first S3DA tournament and I believe it was a great learning experience for all.
Stephanie continues to reach her goal of doubling the number of S3DA clubs and teams in Oregon for the 2019 season, with an increase in the number of tournaments, as well as tournament participants. S3DA Oregon will be hosting a virtual indoor tournament where S3DA archers can compete from across the west region of the United States. Registration for this event is now open via S3DA Sport:80 and the scores will be posted on Oregon S3DA Clubs Facebook at the conclusion of the tournament. For more information on this event, please contact Stephanie Rustad by e-mail: stephanie.m.rustad@state.or.us.
Started in December 2012 by the Scholastic Archery Association, S3DA has grown exponentially as a next step program to follow introductory programs offered as part of 4-H or the National Archery in Schools Program. S3DA addresses the need for a program to bridge beginning target archery experience and more advanced activities such as 3-D shooting and bowhunting. The program currently operates across the United States with hundreds of certified coaches serving
thousands of young archers, grades 3–12.
For more information on S3DA membership go to: WWW.S3DA.ORG or email: infos3darchery@gmail.com
The post Oregon S3DA Hosts State Indoor Tournament appeared first on OutDoors Unlimited Media and Magazine.