Oregon State Police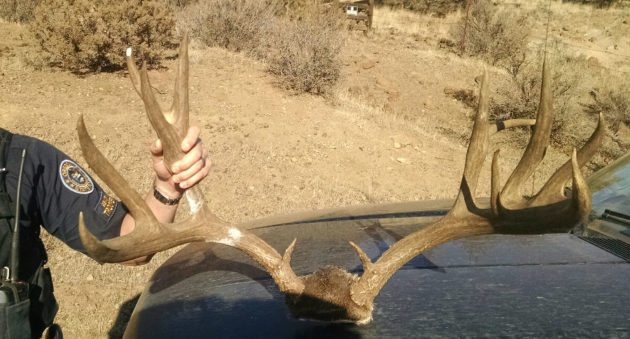 Officials are looking for leads in two trophy mule deer poaching cases.
Hunting seasons are starting to wind down in many areas, but poaching incidents are still happening. Now the Fish and Wildlife Division of the Oregon State Police is turning to the public for leads in two poached trophy mule deer and is offering a $500 reward for information.
The cases are in two separate counties. The first involves a headless buck found dead in Deschutes County in December on BLM land. The person or persons responsible took only the buck's head and backstraps. The rest of the deer was left behind to rot.
The OSP believes someone shot the buck around Oct. 29.
The second case involves a buck that was found dead Dec. 3 in the yard of a Three Rivers resident in Jefferson County. OSP believes someone shot it with rifle near Lake Billy Chinook before it died in the yard.
The OSP press release states authorities don't believe the two cases are related at this time.
Officials encourage anyone with information on either incident to call Oregon's turn-in-poachers hotline at 1-800-452-7888.
NEXT: THESE ARE THE 8 DUMBEST POACHERS YOU'LL EVER COME ACROSS
The post Oregon State Police Looking for Leads in Two Oregon Mule Deer Poaching Cases appeared first on Wide Open Spaces.