By Todd Corayer
Special to Outdoor Enthusiast Lifestyle Magazine
The 13' Predator PDL kayak represents new thinking in the way kayakers sit, move and steer.  The Element Seat is a game changer for paddlers who spend more than the occasional hour in their boat. It's adjustable and any position puts you up high enough to see and be comfortable without feeling like you're messing with the boats center of gravity. This extra height also affords better positioning for casting a fly rod as well. Your casting form won't be affected by having to lift your arms up in an unnatural position which makes your shoulders tired and sore. If you're sight fishing for stripers or rising rainbows, your seat will put you right in line with your fly. Most everything is within reach, including a few plastic tackle boxes you can slide under the seat. If you use a fish finder, The Predator has a few platforms to mount it and Old Town installed a very clever battery cradle, complete with a wiring port to safely hold a small battery.
The PDL pedal drive system is easy to use and a blessing when your arms are tired. I've enjoyed countless days fishing with friends who run these Predators and when it's time to head for home, the Old Town guys lean back and pedal while the paddles come out for the rest of us. After a long few hours in sun or in chop, they're powerful not for propulsion alone but for the way they call on different muscles to take you home. That PDL technology allows for greater speed in most situations than with simply paddle power and frees up hands to cast, troll and catch more fish. It's almost relaxing to drive the Predator with your feet; it  affords your arms a welcome respite from all that catching. The PDL system is designed to be maintenance-free but as with anything of value, it deserves a good bath at the end of any salt or fresh water adventure.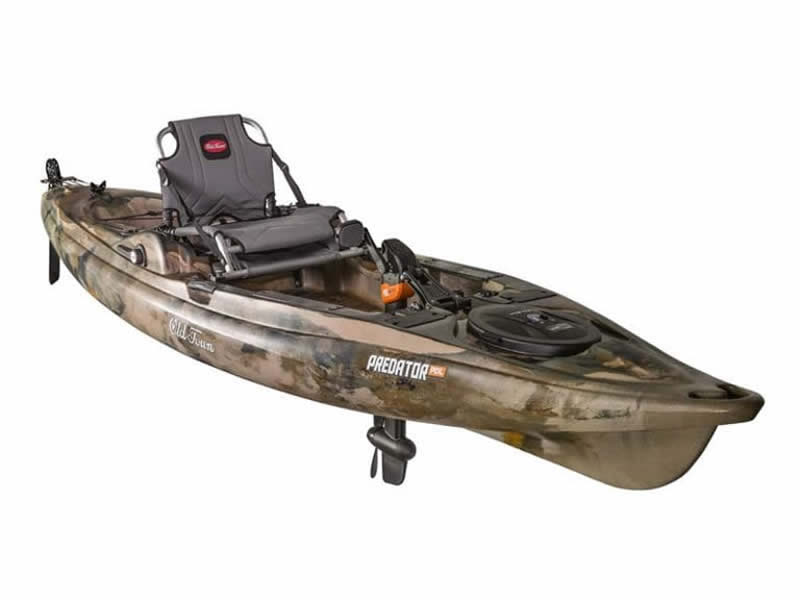 If you hunt for fish in tight to ledges, over rocks surrounded by heavy tides, in coves or heavy cover, the reverse option will be invaluable. Having the ability to quickly back out of a tricky situation or muscle a fish off a hang without reaching for a paddle is amazing. It also might just save your bacon if a wave moves in a bit quicker than you might have anticipated. Since you'll be driving the boat with your feet and fishing with your hands, there's a handy rudder controller that's designed to be easily manipulated with one hand.
The Predator is just a touch over thirteen feet long and thirty-six inches wide. That beam is enough for most people to stand and fish and is rated to a maximum weight load of 500 pounds.
It weighs 117 pounds before fishing gear and must-have's. That extra weight comes from its thick-walled plastic hull, big and comfortable seat, storage options, rails for attaching fish finders, rod holders and of course, cup holders. The Predator has forward storage for things like fleece and small coolers but is not really designed to be accessed under way. There are ample places to stash lures, drinks and valuables plus there's plenty of room behind the seat to secure tackle boxes, gear and rods. You can never have enough rods. That weight can be an issue if you don't have wheels or a cart but the trade-off is in all that storage. If you're paddling solo and use a cart to access your launch, the cart and wheels just get stowed topside, safely out of the way from lines and lures.
Old Town made a serious time investment in this design and it shows. The Predator is stable, comfortable and easy to operate safely. It really shines when you take one fishing. Sitting comfortably, casting to Lilli pads or white foam over some classic striper grounds, the Predator PDL will quickly become a favorite boat, one that you trust to take you out there and safely back, especially if you're leaning back, pedaling all the way.
Old Town kayaks area available from licensed dealers, including Monterey Bay Kayaks, 693 Del Monte Rd., Monterey, CA., Dunham Sports, 4651 National Road East, Eastern Gateway Center, Richmond, IN. and The Sporting Shoppe at The Preserve, 87 Kingstown Rd., Richmond, RI.