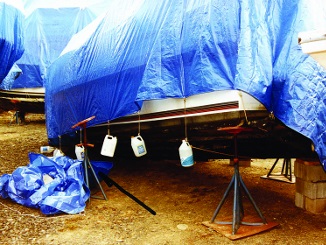 Water that is mistakenly left in a boat's engine block to freeze over the winter is sure to become an expensive repair bill come springtime. As the ice expands, it can crack the block and ruin the motor, damage fiberglass, split hoses, or destroy a boat's refrigeration system. To prevent a mishap while putting the boat away this fall, Boat Owners Association of The United States (BoatUS), a boating advocacy, services and safety group offers the free 15-page "Boater's Guide to Winterizing."
The online brochure addresses the reasons for more than 95 percent of the freeze claims handled by the BoatUS Marine Insurance Program. Included are sections on boat storage, engines and outdrives dos and don'ts, winterization contracts, green winterizing, as well as preparing boat plumbing. A winterization checklist is also included.
The guide is available at www.BoatUS.com/winterizingguide.
The post Free BoatUS Winterizing Guide appeared first on .